The Colorado River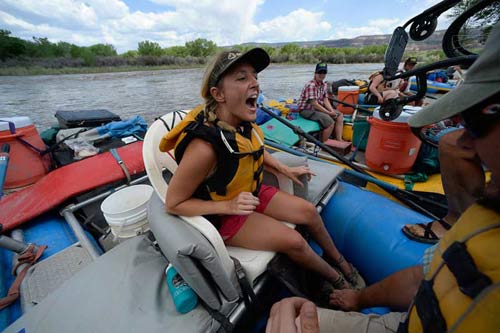 Photo by Francisco Kjolseth
The Salt Lake Tribune
The currents of life have carried Kenny Robertson toward many obstacles.
Determination, a good attitude and the love of family and friends have helped lift him over, around and sometimes through them.
Robertson, 49, who was born with cerebral palsy, says river currents have the same power to help those coping with the challenges of a body that doesn't always respond the way you wish it would.
"I've seen the people that come on these trips; their reactions to the beautiful views that Mother Nature gives," Robertson said during a recent river trip arranged by Splore, a Salt Lake City-based nonprofit.
"I've seen the spark that comes when they have said, 'Oh, I can't do that,' and then they realize, 'Oh, yes I can.' "
Splore has provided opportunities for people with disabilities to experience outdoor recreation for 37 years. Founder Martha Ham started Splore in 1977 after she saw disabled rafters enjoy a river trip in California.
Janine Donald, the current executive director, says roughly 50,000 people have participated in Splore programs.
"River rafting is definitely a hallmark program for Splore," Donald said recently while standing on the banks of the Colorado River. "But our programs based out of Salt Lake see more people throughout the course of the year."
The organization also provides programs for climbing, canoeing, snowshoeing and cross-country skiing.
"We specialize in serving people with disabilities, but anyone can go on a Splore trip," Donald said. "There is no real qualifier for someone to participate."
'There's no barrier'
Gabrielle Ford considers Splore her "other family."
She joined her first Splore trip as part of a group of people with Friedreich's ataxia, a genetic neuromuscular disease. She returned to Utah from Viera, Fla., this summer for her fourth excursion.
"My first trip was about doing white-water rafting, but it quickly turned into [being about] the people and wanting to come back and see them again," she said. "There is a bond with the other people on the trip and the guides right from the start. There's no barrier you have to break down."
Ford was diagnosed as a teenager after she began having difficulty controlling her body. Other students made fun of her clumsiness. Her memoir became the book "Gabe & Izzy: Speaking Up for America's Bullied," and she now visits schools to talk about the impact of bullying.
Her Splore trip this year had a different twist.
Rhonda Hillman had been hearing about her daughter's travels in Utah for years. She finally got a chance to see why the trips had become so important to Gabe, as she prefers to be called.
"It has been so neat for her to be able to come by herself and to learn she could do it on her own," Hillman said. "I can understand now why these experiences are so special to her. She has been able to teach me her love for the river."
Hillman said she had "fallen in love with everybody here. They all look beyond physical disabilities and see human hearts. They are just beautiful people."
'I love to walk all over my fears'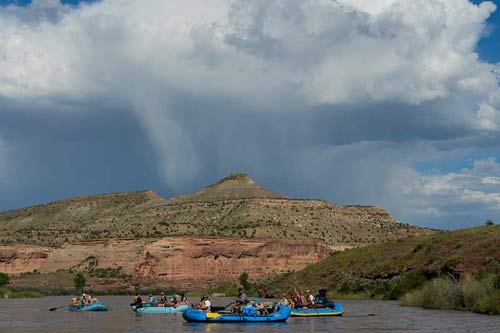 Photo by Francisco Kjolseth
Donald encourages bringing along family, friends and caretakers on Splore trips.
"That is really where the magic happens. It is just eye-opening for therapists or family. They didn't realize their family member or client was able to do as much as they do on a Splore trip," Donald said. "It is really empowering for them to be able to do it together."
Of course, getting on the river can be as refreshing and therapeutic to caretakers as it is to participants.
Robertson made his first Splore trip in the mid-1990s and figures he has joined 20 or so since. The Salt Lake City resident also had someone special with him on the recent trip, but not for the first time.
After he married Carol, who also has cerebral palsy, nine years ago, it was only natural that she should come along. Floating a river and camping in the desert were things Carol Robertson did not think were possible for a wheelchair user before their wedding.
They were also things her mother would never have approved of.
"I am scared of the water and Carol is also scared of the water," Robertson said. "We cannot swim a lap. Her mother kept saying no. The first time she came on a trip it was sheer magic to open that curtain in her life. Her eyes showed the magic of Splore. After that trip she told everyone she would come back and leave me at home if I didn't come back."
The Robertsons and Ford are certain they never would have been able to experience the wonders and therapeutic qualities of the wilds without Splore.
Others have agreed throughout the years, and that's likely one reason many past participants have left assets to the nonprofit in their wills.
Robertson said he finds it sad and confusing that some people without disabilities will not make the effort to take a river trip, go climbing, or try other outdoor activities.
"It drives me crazy when I hear people don't leave one square mile of their birthplace," he said. "People that don't break out have the bigger handicap than I do. I heard a saying that if your dreams don't scare you to death, they are not big enough, so I love to walk all over my fears. They're not going to rule my life or Carol's life."