Checking off Utah Olympic Park
The Salt Lake Tribune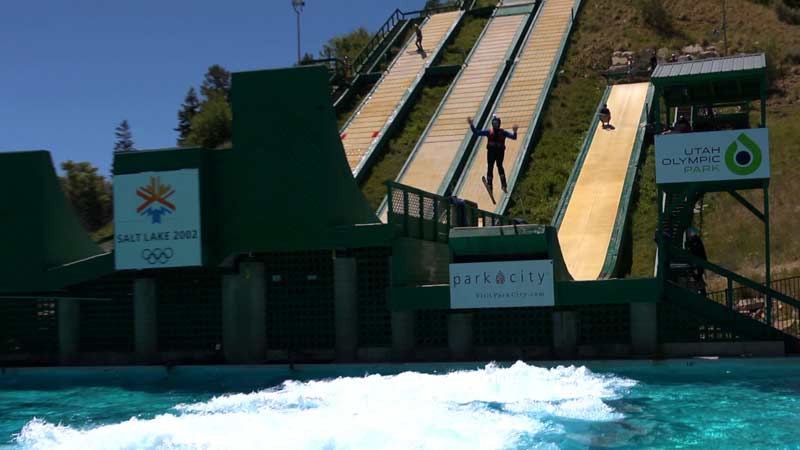 Like most Utahns, when I recall the 2002 Winter Games, it's usually with a little pride.
We hosted the world's elite athletes, showed off our breathtaking Wasatch Mountains and mined a lot of American gold, silver and bronze along the way.
At Utah Olympic Park, where you can try out freestyle skiing and bobsled/luge at one of the Games' most glittering legacy sites, you'd think that pride would be at its summit.
Instead, I found myself there feeling self-conscious and a little embarrassed, standing on a ski jump platform in a wet suit, clipped into old skis and hanging out with a bunch of kids.
It didn't help that a woman standing 10 feet away turned to the man she was with and shouted, "See? If that guy can do it, so can you."
With that still hanging in the air and laughter starting to emanate from onlookers, I pointed my provided 1980s-skinny alpine skis down the ramp.
In my mind I left the ramp as graceful as the professionals from around the world on the other side of the pool going off the big jumps. In reality, I looked like an old guy flying through the air trying not to do a face flop, or so my 10-year-old son, William, told me when I made it to the pool's edge.
I had come to participate in the "Olympic Experience" at Utah Olympic Park. As someone who covered hockey for roughly 15 hours daily during the entire 2002 Winter Games, I was eager to see what the other Olympic sports were all about.
William and I started with the Tramp to Ramp freestyle ski clinic in a private-lesson format. I later headed to the top of the bobsled run for a ride on a wheeled sled. A return in the winter put me in a bobsled and as close as I will ever come to understanding what it takes to ride blades of steel down a sheet of ice.
The jump
I've been skiing since elementary school and took my fair share of jumps during my teenage years while skiing in the Cottonwood Canyons, but I never did it in a wet suit.
We started the Tramp to Ramp session with half an hour of jumping on trampolines.
Tony Bushi, our coach and former freestyle skier, had us twisting and flipping in every direction, something I hadn't done on a trampoline since high school. Then it was on to a test ramp with a runout into padding, just to make sure we could ski in a straight line down the ramp. Passing with flying colors, we moved to the pool. The 750,000-gallon pool, unheated and thus requiring the wet suit, was calling. We walked heavily, laden with ski boots, past the "mongo kicker" ramp on our way to the beginner mini ramp, strategically placed next to the public viewing area.
We made our way up the steps and got in line with a collection of 6- to 10-year-olds in a group lesson. I was glad to let my son go first. I watched him pick up speed and launch into the air. I could tell he was loving it.
Trying to remember everything Tony had told us, I kicked forward and started my descent. I wasn't going as fast as I thought I would when I hit the steep lip of the ramp. That threw me off and my skis angled upward. Instead of being flat like they should have been, my skis hit the water in the back first and caused the front of the skis to pop more vertical.
It wasn't until I was out of the pool and preparing to make my next run that I felt the pain in my left calf. I shrugged it off and kept going.
I felt a little more comfortable in the next 10 or so trips down the ramp. The pain in my calf was annoying but tolerable.
Finally, Tony said I was ready for the next ramp, which is easily four or five times longer than the beginner ramp. We slogged our way up to our spot and looked down.
I made my little hop to get the skis pointed down the ramp, kept the skis flat and avoided straining my other calf muscle. I crawled out of the pool with the skis still attached, glad I had survived. Sort of.
I later found out I had a severe sprain of my left calf muscle, which explained why I couldn't walk for the next two days.
The speed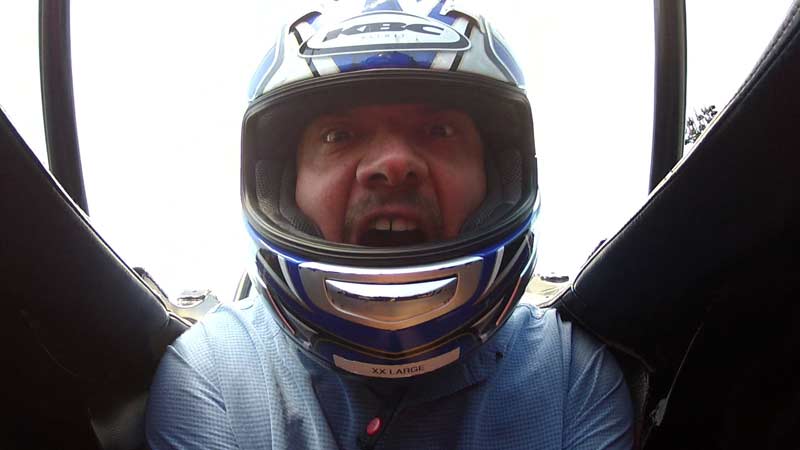 Recognizing that it would probably be a little too much to do the aerial ski jumping session and the summer bobsled on the same day, I returned to Utah Olympic Park a few days later.
A friend who knew someone who had done the summer ride probably got me in the wrong frame of mind when she told me he described it as "having your innards yanked from your body, put in a Cuisinart and put back in your body." Turns out, it was a pretty decent description.
On the summer ride, one of the designated bobsled drivers got us close to 70 mph and probably G-forces of three and maybe four. I crawled out of the sled a little wobbly. I told someone the next day that I felt like my spine was on fire and that I had never been so aware of every bone in my back and neck as I was for the few hours after the ride. That being said, it was an incredible thrill.
The only comparison I can make is that it was a pretty rough version of a roller coaster, as it seemed like we felt every expansion joint in the concrete track.
My return in February for the winter ride was worth the wait. Ice on the track covers the joints and makes the winter experience a much smoother slide. However, the speed and G-forces (upward of 80 mph and four or five G's) more than made up for the lack of expansion joints.
We crammed into the tight sled, with me in the rear. Our ride started well enough with shouts of excitement from myself and the other two riders behind the driver, but the cheers didn't last very long as we were quickly zooming along at breakneck speeds. I had my shoulders and knees flared against the sides of the sled in an attempt to reduce the violent rocking back and forth.
It was in the third turn where I made the mistake of relaxing a bit too much. We hit the high turn and my body seemingly turned to Jell-O. I couldn't recover and spent the rest of the ride just trying to keep my head up so I could see.
We slowed as the driver braked us at the finish. When my world stop rocking back and forth I was just glad I hadn't peed my pants like I had heard happens when some people experience the G-forces. It might have bruised that Olympic pride.