Farmington Canyon/Sunset Trail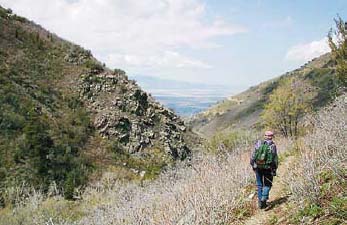 As you you make your way up the north side of the canyon, you see Farmington Creek. About a mile into the hike, you will come to the first of two stream crossings. Hop from one rock to the next and try to keep your shoes dry by not stepping into the shallow water. As you continue up the trail, bluebells add color and you can hear the sounds of falling water echoing through the canyon. Once you arrive at the falls, take a moment to enjoy the view and then head onward where the trail leaves the creek and snakes up to Sunset Campground. The campground is a perfect place to have lunch.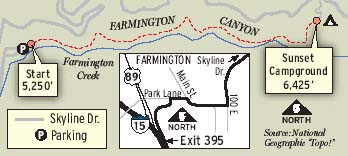 Getting there: From Interstate 15, take the Park Lane offramp (exit 395 for Farmington and Lagoon). Drive east on Park Lane and turn south at Main Street. Stay on Main Street and turn left at 100 East. The pavement will end about 1.7 miles, where the road turns to gravel. As soon as you reach the gravel road, turn right to the parking area. The trail isnít posted.
-- Photo, text and graphic by Steve Baker
Region: Northern Utah
Destination: Campground
Distance: 3.8 miles
Time: 3 hours
Elevation Gain: 1,175 feet
Dog Allowed: Yes
Restrooms: No
Biking: Yes
GPS Location: 40.9605006, -111.814659
Difficulty: 2
First published 2006-05-11