Stansbury Island Mountain Bike Trail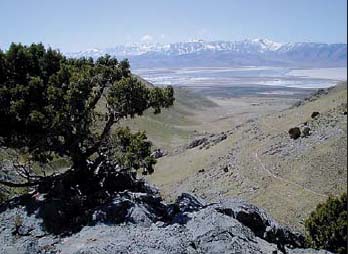 Spring is a great time to hike this trail. But remember, there is no fresh water, so bring plenty of water for yourself and any canine hiking partner. The first part of the trail is on a grass-covered hillside and is the steepest part of the hike. As you make your way to the ridge, you will see the Stansbury Mountains in the distance and have great views of the Great Salt Lake. The trail drops down slightly as you leave the ridge and follows the contour of the mountain. Hike as far as you want and watch for red-tailed hawks and other birds of prey. The best thing about the trail is the view, which allows you to see for miles. There may be artifacts from ancient people. If you do encounter these sensitive sites, please leave nothing but footprints and take nothing but pictures. The trail is managed and maintained by the Bureau of Land Managementís Salt Lake Field Office. For additional information, call 801-977-4300.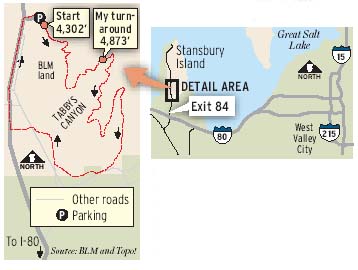 Getting there: From Interstate 80, take Exit 84 and stop at the frontage road. Take a left where the pavement ends and turns to gravel. The gravel road is fine for cars. Stay on the gravel road, where you will see a sign for the trailhead.
-- Photo, text and graphic by Steve Baker
Region: Wasatch Canyons
Destination: Stansbury Lake views
Distance: 4.8 miles
Time: 3 hours 30 minutes
Elevation Gain: 571 feet
Dog Allowed: Yes, bring water
Restrooms: No
Biking: Yes
GPS Location: 40.8382732, -112.5030153
Difficulty: 1
First published 2006-04-27