Big Beacon (Mt. Wire) - Wasatch Front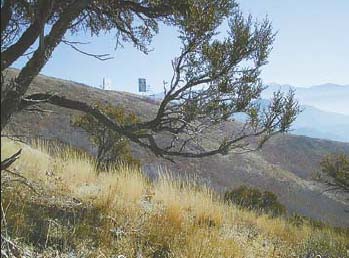 The trail starts just north of the Huntsman building, with a bag dispenser reminding you to pick up after your dog. On the way up you will run into the Shoreline Trail. Just east of that is Georges Hollow. As you head toward Georges Hollow, you will see one of the microwave reflectors on the hilltop. There are many trails and it can be confusing deciding which one leads to Big Beacon. Stay to the right, where the trail follows the south drainage for about 1/2 mile and then goes over the ridge into Georges Hollow. At the hollow, the trail traverses the hillside, with great views of the valley. When you encounter the next trail split, go right. This section of the trail will take you to the ridgeline looking into Red Butte Canyon. At the ridgeline, take the trail heading south (right). The trail curves around the hillside and you get your first glimpse of the two huge facing reflectors, which look like giant basketball stands without hoops. Take your best shot on the court of Emigration Canyon, Red Butte Canyon and the Salt Lake Valley.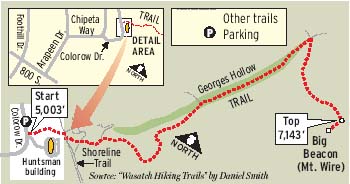 Getting there: Drive east on 800 South towards Emigration Canyon and take a left at Arapeen Drive. Turn right at Chipeta Way, then right on Colorow Drive. Drive past the Huntsman building and park on the road.
-- Photo, text and graphic by Steve Baker
Region: Wasatch Canyons
Destination: Valley overlook
Distance: 4.25 miles
Time: 3 hours 30 minutes
Elevation Gain: 2,140 feet
Dog Allowed: Yes
Restrooms: No
Biking: Yes/difficult bike terrain
GPS Location: 40.7699464, -111.7985446
Difficulty: 3
First published 2006-04-13