Shoreline Trail (Dry Creek access) - Wasatch Front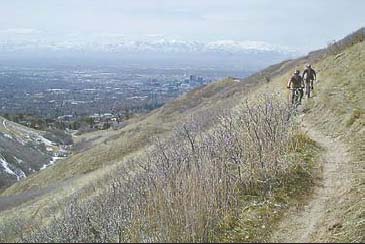 Start your hike from the park and take the pedestrian sidewalk east towards the "U" on the mountain. Follow the sidewalk for about three-quarters of a mile to the Shoreline trailhead, which posts hiking distances and trail rules. With water flowing down Dry Creek, this steep section is coming alive from a winter sleep. Caterpillars cross a shrub oak covered trail, while new plants are reaching skyward. This trail is very popular with mountain bikers and trail runners, so be alert to other users. A mile into the hike you will encouter a trail split. At the split, stay on the main trail and take the switchback out of Dry Creek. When you reach the top of the swithback, the views are awesome and the trail levels out along grass covered hills. If you decide to hike further, the trail leads to the City Creek saddle and other trails above Perrys Hollow.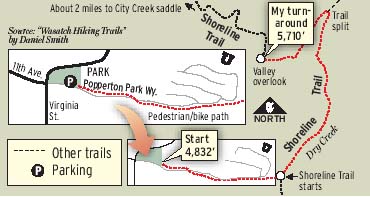 Getting there: From Virginia Street take a right at Popperton Park Way and park at the Park. The trailhead is .72 miles from the parking lot.
-- Photo, text and graphic by Steve Baker
Region: Wasatch Canyons
Destination: Valley views
Distance: 4.5 miles
Time: 3 hours
Elevation Gain: 878 feet
Dog Allowed: Yes, on leash
Restrooms: No
Biking: Yes
Difficulty: 2
First published 2006-04-06