Great Gallery, Horseshoe Canyon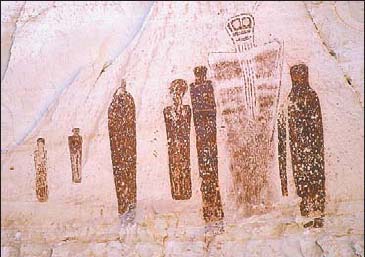 Description: In addition to being one of the most amazing and significant areas for rock art in North America, Horseshoe Canyon also drew national attention because it is where Aron Ralston was rescued after he cut his arm off after a rock pinned him against a wall in 2003. Ralston was outside the park boundary when the accident happened. You won't see the spot of his ordeal on this hike, but you will see some of the largest ancient rock art in the world. Larger-than-life figures, some up to 9 feet tall, take your breath away at the Great Gallery site in this remote and separate section of Canyonlands National Park. There are four rock-art panels on the hike, culminating with the Great Gallery. Avoid hiking this route in the middle of summer and always take plenty of water. For information about rangerguided hikes, call the Hans Flat Ranger Station at 435-259-2652.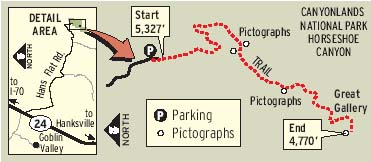 Getting there: Vehicle access to the West Rim Trailhead where the hike starts is from Highway 24 north of Hanksville on a marked graded dirt road across from the turn to Goblin Valley State Park. It is a 32-mile drive to the West Rim. Two-wheel-drive vehicles can make it to the Bureau of Land Management undeveloped camping area at the trailhead. There is a vault toilet, but no drinking water. The roads may become impassable during storms.
-- Photo, text by Bret Prettyman, graphic by Steve Baker
Region: Southeast Utah
Destination: Great Gallery
Distance: 6.5 miles
Time: 3 to 6 hours
Elevation Gain: 557 feet
Dog Allowed: No
Restrooms: Yes
Biking: N/A
GPS Location: 38.5708137, -110.042349
Difficulty: 3
First published 2006-03-09