Hidden Pinyon Trail - Snow Canyon State Park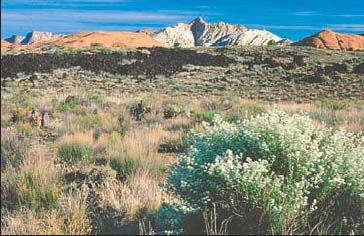 Description: Late winter, early spring and fall are the best times to visit Snow Canyon State Park in the southwestern corner of the state. This desert hike is just too hot in the summer. The Hidden Pinyon trailhead is across Snow Canyon Drive from the state park campground; its location makes it one of the park's most-used trails. Take the time to stop at the trailhead and pick up a copy of the trail guide, which includes drawings and descriptions of 12 plants you will see along the trail. The guide also provides geological information about the two lava flows in the park and a description of cross bedding, or how sand dunes turn into rock. The hike is suitable for all family members, but it is not wheelchair accessible.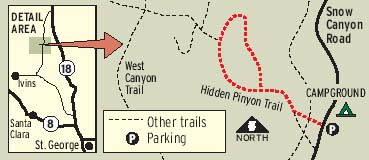 Getting there: Snow Canyon State Park is eight miles north of St. George on State road 18.
-- Text Brett Prettyman and graphic by Steve Baker
Region: Southern Utah
Destination: Hidden Pinyon Trail, Snow Canyon State Park
Distance: 1.5 miles
Time: 1 hour to 90 minutes
Elevation Gain: Not more than 200 feet
Dog Allowed: No
Restrooms: Yes at the campground across from the trailhead
Biking: N/A
GPS Location: 37.2060909, -113.6499601
Difficulty: 3
First published 2006-02-23