Emerald Pools, Zion National Park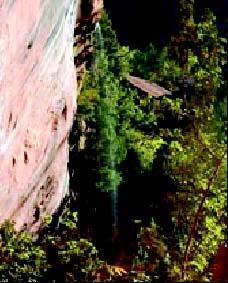 Description: One of the most popular trails in Zion, the Emerald Pools offer varying degrees of length and difficulty. This is an especially good hike for families with young children. The trail is paved to the Lower Pool and those in wheelchairs can make it with a little help along the way. The trails all connect and the hike can easily be made into a loop with other longer options to the Grotto and Sand Bench Horse Trail. A spring-fed waterfall is always running at the Lower Pool. Larger waterfalls will run at the Middle and Upper Pools after rainstorms or when snow is melting. The Middle Emerald Pools Trail is closed this winter because of trail damage from heavy rainfall over the year. Repairs will begin when the soil stops slumping onto the trail. The Middle and Upper Emerald Pools are still accessible by taking the Lower Emerald Trail. Sometimes the Lower Trail is closed at the base of the waterfalls because of falling ice. Visitors can still reach the Middle and Upper Emerald Pools be hiking on the Kayenta from the Grotto. There are no dogs allowed on the trails at Zion National Park. There is a $20 vehicle fee to enter the park. Check for closures before embarking on the popular Emerald Pools trails.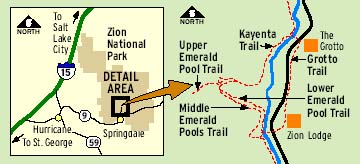 Getting there: The Emerald Pools trailhead is located directly across the Zion Canyon Scenic Drive from Zion Lodge, about five miles from the turnoff of state Road 9, which runs through the park.
-- Text by Brett Prettyman and graphic by Steve Baker
Region: Southern Utah
Destination: Emerald Pools at Zion National Park
Distance: 1.2 to Lower, 2 to Middle, 0.6 to Upper from Midd
Time: 45 minutes - 1 hour to Lower Pool
Elevation Gain: 150 feet to Middle Pool
Dog Allowed: No
Restrooms: Not at trailhead but across the road at the Zion
Biking: N/A
GPS Location: 37.2577598, -112.9618848
Difficulty: 3
First published 2006-01-05