Ferguson Canyon - Wasatch Front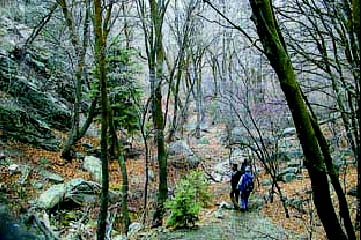 From Timberline Drive, the trail starts on the service road to a water tank on the hill. Beyond the tank, the road ends and the trail begins. The canyon awaits you as the trail drops down, before climbing up through a forest of shrub oaks. With the canyon creek so low, your boots should stay dry as you cross it several times on your trek up. On the trail, a perfect arched tree welcomes you to a world of granite walls, ferns, boulder fields, shade trees and the peaceful sounds of small waterfalls. About one and a half miles into the hike, you will see the trail leaving the creek for the overlook. The overlook trail is less steep and gives you a chance to catch your breath after hiking the rugged canyon floor. At the overlook, two distinct rock formations invite you to sit, contemplate and take in the view of the city below. Note: Canyon is closed from 10 p.m. to 6 a.m. and no campfires at any time.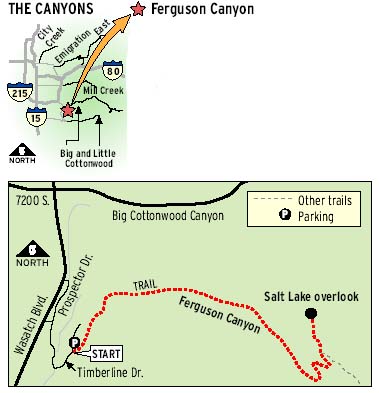 Getting there: Directions: Turn east off Wasatch Drive to Prospector Drive (7535 South). Take an immediate right and head south. At Timberline Drive (7780 South), take a left and park along the right side of the road. A dirt road leads to the trailhead.
-- Photo, text and graphic by Steve Baker
Region: Wasatch Canyons
Destination: Salt Lake overlook
Distance: 3.5 miles
Time: 2 hours 45 minutes
Elevation Gain: 1,600 feet
Dog Allowed: Yes
Restrooms: No
Biking: Not recommended
GPS Location: 40.6157814, -111.7885432
Difficulty: 3
First published 2005-11-24