Avenues Twin Peaks - Wasatch Front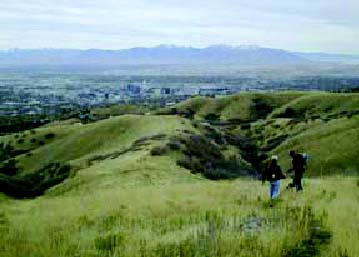 At the trailhead you will see a dispenser for picking up after your dog. Grab what you need and take the trail stairs into Perrys Hollow. In Perrys Hollow, the trail heads north through srub oaks with great views of the university area and the east side of the valley. As you head up the trail, the two perfect domes of Twin Peaks appears to the east. At the top of Perrys Hollow the trail intersects with other trails. All the trails look inviting, but start climbing again on the Dry Creek Trail. This climb takes you up the to the ridgeline with awesome views of City Creek Canyon, Black Mountain, Salt Lake Valley and The Great Salt Lake. Stay on the ridgeline and follow the trail to Twin Peaks.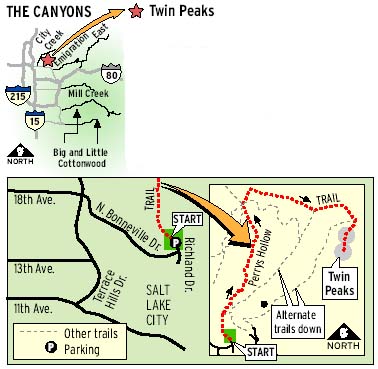 Getting there: From 11th Avenue turn north onto Terrace Hills Dr. Drive up to N. Bonneville Drive and turn right. N. Bonneville Drive runs into Richland Dr. where you make a left. Trail is clearly marked.
-- Photo, text and graphic by Steve Baker
Region: Wasatch Canyons
Destination: Valley overlook from peaks
Distance: 4 miles
Time: 2 hours 45 minutes
Elevation Gain: 1,005 feet
Dog Allowed: Yes, on leash
Restrooms: No
Biking: Yes
Difficulty: 3
First published 2005-11-17