Bell Canyon Trail - Bells Canyon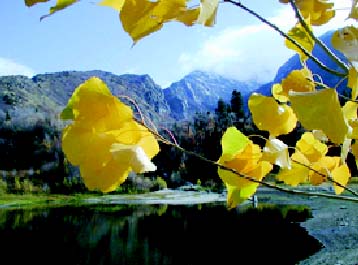 With cooler but still pleasant weather, fall is a great time to hike Bell Canyon Trail. From the parking lot, the trail makes switchbacks up the hillside through scrub oak. You will come to a ridge that overlooks homes sitting in a ravine. On the far side of the ravine, you can see the trail traversing up to the next ridge. Watch for deer and other wildlife on this easy section of the trail. When you hike to the last ridge, Lower Bells Canyon Reservoir is revealed. At the reservoir, rings appear on the water surface as trout search for a meal. Do a little searching of your own by exploring the trails going around the reservoir and visiting the waterfall up the canyon. Bells Canyon is stunning and so close to home.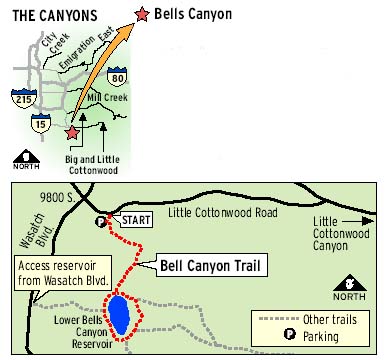 Getting there: From Wasatch Boulevard at 9800 South, turn east on Little Cottonwood Road. The parking area is about a block off Wasatch Boulevard on the south side of the road. The trail is clearly marked.
-- Photo, text and graphic by Steve Baker
Region: Wasatch Canyons
Destination: Lower Bells Canyon Reservoir
Distance: 3 miles
Time: 1 hour 30 minutes
Elevation Gain: 483 feet
Dog Allowed: No
Restrooms: No
Biking: Yes
Difficulty: 1
First published 2005-11-10