Frary Peak, Antelope Island State Park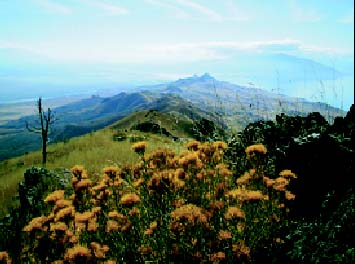 From the parking lot, the trail makes a steep climb up the grass-covered hillside and levels off as you approach Dooly Knob. When the trail splits for Dooly Knob, stay to the left, heading southwest, and enjoy the morning shade along the hillside. This is about the only shade on Antelopes Island's highest peak, so bring plenty of water. The trail makes a switchback out of the shade and traverses the ridge, with views of Buffalo Point and the Promontory Mountains. As you approach the top, you will see a communications tower and a fantastic west-side view of the island. From the tower, Frary Peak looms above as the trail drops downhill. The slippery trail going down is carved into the mountainside and has steep drop-offs. When you start climbing again, treacherous trail stairs lead you to the top to enjoy the awesome views from Frary Peak. Note: The trail is closed from early April through early June for the bighorn sheep lambing season. Call the park for exact dates. Park entrance fee: $8 per vehicle; Parking lot gate: Closed at 7 p.m.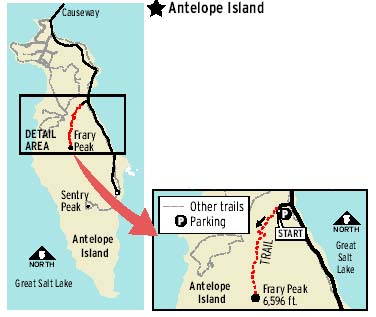 Getting there: From Interstate 15, take Exit 332 for Syracuse. Make a left and stay on Antelope Drive which leads to the causeway. On the island, take a left and watch for the sign to Frary Peak. It's 5.8 miles to the trail head and parking lot. The gate to the parking lot is closed and locked at 7 p.m.
-- Photo, text and graphic by Steve Baker
Region: Northern Utah
Destination: Frary Peak
Distance: 6.5 miles
Time: 4 hours 30 minutes
Elevation Gain: 2,050 feet
Dog Allowed: No
Restrooms: No
Biking: No
GPS Location: 40.9618863, -112.2160594
Difficulty: 3
First published 2005-10-27