Mount Olympus Trail - Mount Olympus Wilderness area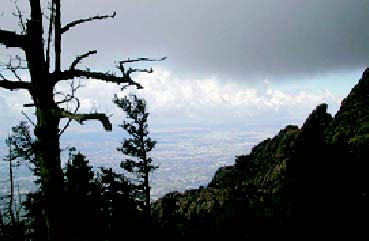 With the cooler weather, fall is a perfect time to hike Mount Olympus. The hike is a total aerobic workout, like natures stairmaster. Right from the start there is a series of trail stairs, taking you past the prominent Petes Rock. From there, the trail twists up to a bench, levels off and takes off towards Tolcats Canyon. A canopy of gambel oak and juniper trees gives some relief from the sun, as you hike the side of this canyon. Above the canyon, follow the rocky west ridge of Mount Olympus and the trail turns into a heart pounding, stepping-stone trial. Eventually the stones lead you to a saddle that overlooks Heughs Canyon and the mountains of Big Cottonwood Canyon in the distance. I only made it to the saddle, because clouds drifted over the peak and it started snowing. Next time, I will finish the rest of the 1/4 mile rock scramble to the top. About dogs in canyons: Domestic animals are not allowed in Little Cottonwood, Big Cottonwood, Parleys (from SL Valley to the summit), including Lambs and Dell. In City Creek Canyon dogs are not allowed past the water treatment plant, approx. 3 miles up the Canyon; up to that point dogs must be on leash. Exceptions are strictly by special permits for canyon residents, rescue and certified assistance dogs. Correction: Dog Lake is located in the watershed and dogs are not allowed. Incorrect information was included in last week's Short Hike of the Week.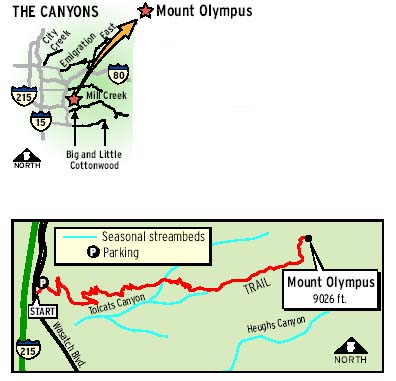 Getting there: There is a parking lot off of Wasatch Boulevard, about 5700 South. The trailhead is clearly marked.
-- Photo, text and graphic by Steve Baker
Region: Wasatch Canyons
Destination: Mount Olympus Peak
Distance: 7 miles
Time: 8 hours
Elevation Gain: 4,060 feet
Dog Allowed: Yes, but not over the ridge into Big Cottonwood C
Restrooms: No
Biking: No
GPS Location: 40.6566144, -111.7710429
Difficulty: 5
First published 2005-10-13