Grandeur Peak, Mill Creek Canyon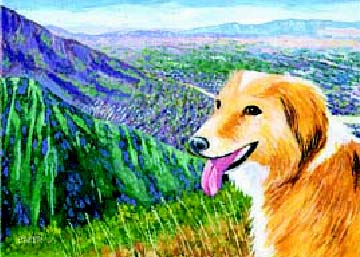 The sounds of a cascading waterfall welcome you to the trailhead. Follow the stream for about half a mile. The trail veers off to the west and out of the shade. The trail has switchbacks through shrub oak up to a saddle on the Mill Creek ridge crest. From the saddle you get your first glimpse of Parleys Canyon, Salt Lake City and Grandeur Peak. After the saddle, the climb becomes steeper and more difficult. Standing on the summit you hear the sounds of the city with a 360-degree view of the beautiful Wasatch Front. About dogs: Salt Lake County requires that dogs be leashed in the entire canyon on even-numbered days. Dogs may be unleashed on odd numbered days except in developed areas.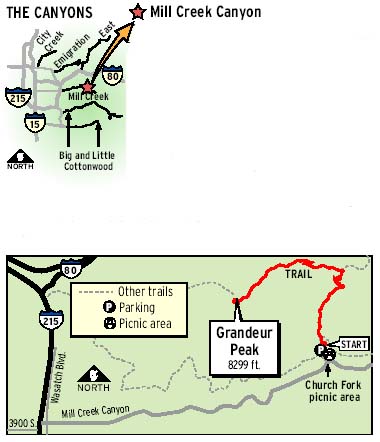 Getting there: From Wasatch Blvd. its 3.2 miles to the Church Fork turnoff in Mill Creek Canyon. Drive to the end of the picnic area where there is limited parking. The trailhead is clearly marked.
-- Text and graphic by Steve Baker (baker@sltrib.com)
Region: Wasatch Canyons
Destination: To Grandeur Peak
Distance: 6.5 miles
Time: 4 hours 40 minutes
Elevation Gain: 1,699 feet
Dog Allowed: Yes
Restrooms: Yes, in picnic area
Biking: Not recommended
GPS Location: 40.7071693, -111.7596539
Difficulty: 5
First published 2005-09-22