Snake Creek Pass - Big Cottonwood Canyon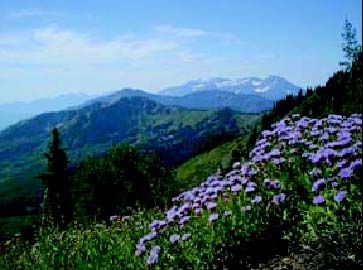 The trail starts on the right side of the Brighton Center. Hike the service road for about 1/2 mile and follow the signs to Lake Mary. On the trail, take the Dog Lake fork heading southeast. Just before you get to Dog Lake, the trail forks again and is not posted. Take the left fork away from Dog lake, which is the Snake Creek Trail. You will cross a service road above the Majestic Lift, cross the road and continue on the trail into the pine trees. Near the top of the pass you will encounter yet another service road. This time hike the road to the top of the pass. Sit on the log and enjoy the view of Mt. Timpanogos and Heber Valley. For a change of scenery when you leave, hike down the service road to the Brighton Center.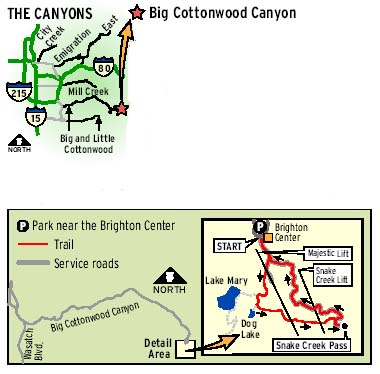 Getting there: Drive up Big Cottonwood Canyon to the Brighton Ski Area parking lot. Look for the Lake Mary trail head near the Brighton Center.
-- Photo, text and grapic by Steve Baker (baker@sltrib.com)
Region: Wasatch Canyons
Destination: Snake Creek Pass
Distance: 4.5 miles
Time: 3 hours
Elevation Gain: 1,345 feet
Dog Allowed: No
Restrooms: Brighton Center
Biking: Not recommended
GPS Location: 40.4835666, -111.4665756
Difficulty: 3
First published 2005-09-15