Mormon Pioneer Trail - East Canyon drainage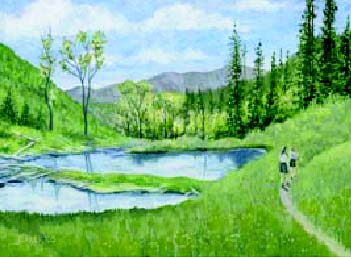 This National Historic Trail takes you along a small drainage creek through pines, aspen and a variety of wildflowers. The creek crosses the trail many times as you accent a gentle slope. Children, as well as the family dog will enjoy this easy hike. After 1 1/2 hour into your hike, you'll reach the first of many beaver ponds along the trail. Have lunch at the ponds, look for beavers and enjoy this beautiful area.
Getting there: On Interstate 80, take the Jeremy Ranch turnoff. Drive 5.1 miles past the Jeremy Ranch Clubhouse on the well-maintained Summit County gravel road. The Mormon Flats trailhead is marked and the footbridge leads the way to your adventure.
-- Text and graphic by Steve Baker (baker@sltrib.com)
Region: Northeast Utah/ Uintas
Destination: To beaver ponds
Distance: 4 miles
Time: 2 1/2 hours
Elevation Gain: 388 feet
Dog Allowed: Yes
Restrooms: Yes
Biking: Yes
Difficulty: 1
First published 2005-09-08