Lambs Canyon Trail - Lambs Canyon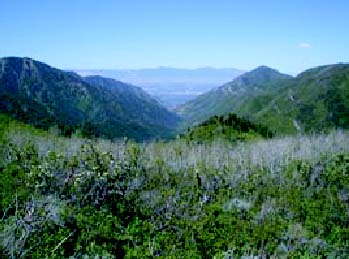 Across the road from the parking area the trail begins with the sounds of rushing water. After crossing the creek over a small bridge, the trail makes a couple of switchbacks to a spring-fed stream. As you hike near the stream, the sound of rushing water guides you up the trail through a lush forest of aspen and pine. As fast as the spring appears, it disappears and the trail grows steeper. Switchbacks lead to the top, where the trail joins the Elbow Fork Trail from Millcreek Canyon. These two trails are part of the Great Western Trail. Breath deep and take in the view!
Getting there: Take the Lambs Canyon exit from Interstate 80 in Parleys Canyon. Drive 1.8 miles up the paved road to the parking/restroom area on the left side.
-- Photo, text and graphic by Steve Baker
Region: Wasatch Canyons
Destination: To Mill Creek Ridge Overlook
Distance: 3 1/4 miles
Time: 2 hour 20 minutes
Elevation Gain: 1,400 feet
Dog Allowed: No
Restrooms: Yes
Biking: Not recommended
GPS Location: 40.7385584, -111.6738174
Difficulty: 3
First published 2005-09-01