Desolation Trail to Salt Lake Overlook, Mill Creek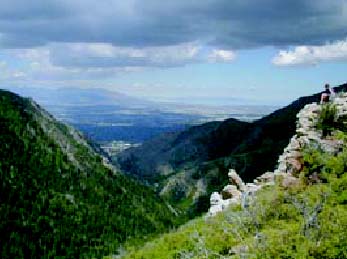 This short hike takes you up a series of easy switch backs, on a steep hillside through the Mount Olympus Wilderness area. There are shade and resting areas to take in the view of Mill Creek Canyon on the way up. When you see the Salt Lake Valley and the crest of rocky ridges, you have arrived at the overlook. My cell phone was working at the overlook and I called my sister in Arkansas: "You can't believe the views!" About dogs: Salt Lake County requires that dogs be leashed in the entire canyon on even-numbered days. Dogs may be unleashed on odd numbered days except in developed areas.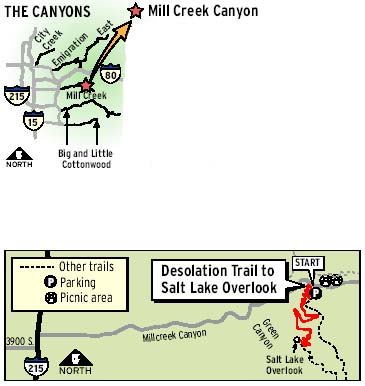 Getting there: From the fee station in Millcreek Canyon, it's 2.5 miles to the trail head. The trail and parking lot is just east of the Millcreek Inn on the south side of the road. The Desolation Trail is right of the restrooms and clearly marked.
-- Photo, text and graphic by Steve Baker
Region: Wasatch Canyons
Destination: To Salt Lake Overlook
Distance: 4 miles
Time: 2 1/2 hours
Elevation Gain:
Dog Allowed: Yes
Restrooms: Yes
Biking: No
Difficulty: 3
First published 2005-08-11