Red Pine Lake Trail - Little Cottonwood Canyon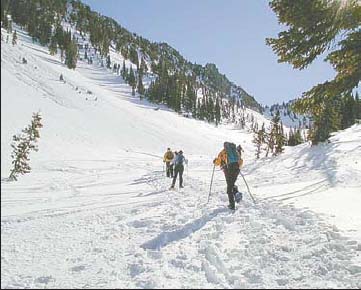 Description: On this hike, I joined the Wasatch Mountain Club to Red Pine Lake. The trail starts at the White Pine Trailhead before turning off to the Red Pine Lake Trail. After the bridge over Little Cottonwood Creek, the trail turns west, gradually climbing along the canyon. Enjoy the spectacular view of Little Cottonwood Canyon and the Salt Lake Valley. This hike includes two forks: White Pine Fork, then Red Pine Fork. The trail enters White Pine Fork first, where you will encounter the first trail split. The split is about a mile into the hike; take a right for Red Pine Lake Trail. This section takes you out of White Pine Fork and travels around the mountain into Red Pine Fork. Continue your climb south through a forest of tall pines. Two and a half miles into the hike, you will reach the Maybird Bridge. Continue south to Red Pine Lake, because the Maybird Trail leads west. As you hike the final section to the lake, the jagged rocks and steep slopes remind you of the possible avalanche dangers. Always check avalanche conditions when snowshoeing anywhere and never hike this trail when conditions are high. At the top, the lake seems to be sleeping in a cover of snow and ice, while cradled in rocky hands. Note: For information about the Wasatch Mountain Club visit, http://www.wasatchmountainclub.org/.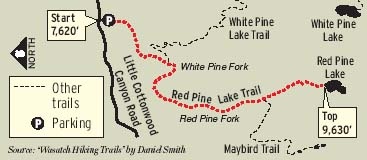 Getting there: Drive 4.6 miles up Little Cottonwood Canyon and take a right for the White Pine trailhead and parking lot.
-- Photo, text and graphic by Steve Baker
Region: Wasatch Canyons
Destination: Red Pine Lake
Distance: 6.18 miles
Time: 4 hours 15 minutes
Elevation Gain: 2,010 feet
Dog Allowed: No
Restrooms: Yes
Biking: N/A
GPS Location: 40.5432836, -111.6932599
Difficulty: 3
First published 2006-03-23