Neffs Canyon Trail - Wildcat Ridge Wasatch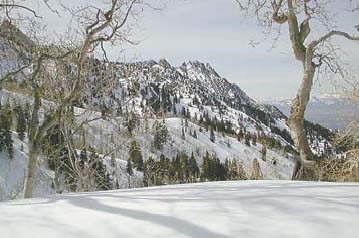 Description: From the parking lot, the trail leads up to a service road. As you hike the road, turn around and glance at the Salt Lake Valley. About a half-mile later, the roads ends and you reach the trailhead. Stay to the left. The trail follows the Wildcat drainage and becomes steeper from here. The day I snowshoed the canyon, I felt like I was living in two seasons at once. The right ridge has plenty of winter snow and the left ridge looked like summer. "Hiking season is just around the corner," I thought. As you hike the ridge, the jagged rock formations on Wildcat Ridge inspire you to contiune your steep climb to the meadow. The meadow appears without warning, like a hidden Christmas gift that you discovered in the trees.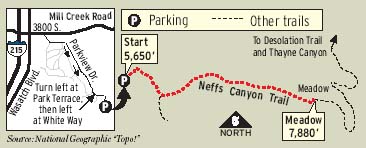 Getting there: Directions: At the stop sign, on Mill Creek Canyon Road, take a right onto Parkview Drive. From Parkview Drive, take a left at Park Terrace, than left at White Way and park at the trailhead parking lot.
-- Photo, text and graphic by Steve Baker
Region: Wasatch Canyons
Destination: Meadow
Distance: 5 miles
Time: 4 hours
Elevation Gain: 2,230 feet
Dog Allowed: Yes
Restrooms: No
Biking: N/A
GPS Location: 40.6771696 , -111.7790988
Difficulty: 5
First published 2006-03-16