Wheeler Creek Trail - Cache National Forest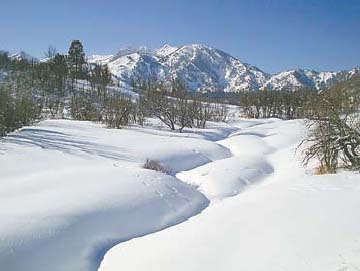 The trail starts below Pineview Reservoir on the south side of the highway. From the gate, the trail follows Wheeler Creek on a closed service road. Wheeler Creek seems to be in a hurry to leave the mountain as you start your climb above the raging water. About a mile into the hike there is a split in the trail for Icebox Canyon. The canyon calls out to you to choose this route first, but itís better to wait and drop into the canyon from the other side. Follow the Art Nord Trail and take the next trail split for Wheeler Creek Middle-Fork, which runs near the old road to Snowbasin. As you travel west, you will see open rolling hills with beautiful Mount Ogden in the distance. You will cross two small footbridges on the Middle-Fork, then the trail splits right for Icebox Canyon. As you drop into the canyon you are about 30 feet above the canyon floor. The trail snakes its way down to the bottom of this tree-filled wonderland. If this is natureís icebox, it's filled with everything you are looking for. Enjoy the feast! Word of caution: Avalanches periodically occur in Wheeler Canyon to Art Nord. Check avalanche conditions before you go.
Getting there: From Ogden, take the Highway 39 up Ogden Canyon and park below the dam. The trail starts on the right-hand side.
-- Photo, text and graphic by Steve Baker
Region: Northern Utah
Destination: Loop trail to view Mt. Ogden and Icebox Canyon
Distance: 4.75 miles
Time: 3 hours
Elevation Gain: 796 feet
Dog Allowed: Yes
Restrooms: Yes (at Art Nord parking lot)
Biking: N/A
GPS Location: 41.2543868, -111.8438281
Difficulty: 3
First published 2006-02-09