Alpine Loop Road - Uinta National Forest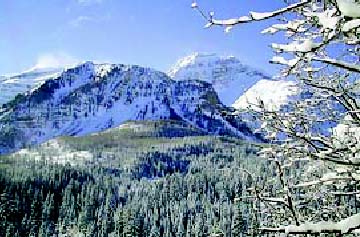 The Alpine Loop Road is a beautiful drive in the spring, summer and fall. The road is closed during the winter for snowmobiling, cross country skiing and snowshoeing. Traveling southeast, as you pass through the gated road, Mount Timpanogos is on the right. Stop often on the road and watch the ever-changing skyline over Timpanogos. Enjoy the spactacular show as the wind picks up the snow on the mountaintops and blows it into the air. On this hike, the destination is the road. On the road, springs seem to flow out of the snow bank from nowhere and the trees branches hold so much snow, you wonder how they support the weight. Snowmobilers love speed, so stand to the side when you hear one coming. After the snowmobiles whiz by, the only sounds you hear are the wind blowing through the trees, birds calling out in the distance, water flowing down the mountain and an occasional greeting from a fellow hiker. There is plenty of room for all of us at this beautiful place.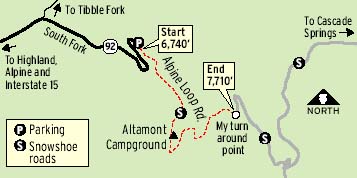 Getting there: From Interstate 15, take the Highway 92 exit to Alpine. Drive east on 92, which leads into Alpine Loop Road in American Fork Canyon. Stay on the South Fork and park in the lot next to the gated road.
-- Photo, text and graphic by Steve Baker
Region: Central Utah
Destination: Road view
Distance: 5.7 miles
Time: 3 hours 30 minutes
Elevation Gain: 930 feet
Dog Allowed: Yes
Restrooms: Yes
Biking: N/A
Difficulty: 3
First published 2006-01-26