Pipeline Trail - Mill Creek Canyon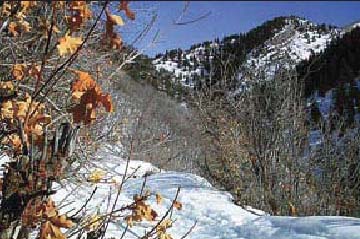 Description: With clear skies and mild temperatures, the snow was melting at the trailhead. I decided to carry my snowshoes when I saw the hardpacked trail and use them when needed. As my GPS was making tracks on the screen, I made boot tracks up the steepest part of the trail, with the sunlight casting shadow patterns across the route. It took about 40 minutes to reach the pipeline section of the trail, which runs parallel to the canyon road. At the pipeline, I started sinking into the trail and decided to wear my snowshoes. The trail flattens out on the pipeline and ends at the canyon road, about 2.5 miles from the trailhead. If you decide to take the canyon road back, please stay off the cross country tracks on your way down. When you reach the gate, itís about a 1/4 mile walk on the road to your car. Snowshoe tip: Andrea Paulsen from Holladay suggests carrying a shoelace in your pack. There are times when you don't want to wear your snowshoes and the shoelace ties them to your pack, keeping your hands free. About dogs in Mill Creek Canyon: Salt Lake County requires that dogs must be leashed in the entire canyon on even-numbered days and allowed to be unleashed on odd-numbered days except in developed areas.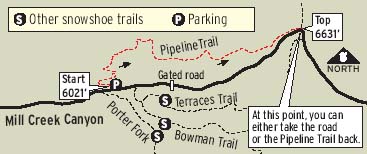 Getting there: From Wasatch Boulevard and 3800 South, drive up Mill Creek Canyon. The trailhead will be on the left after Porter Fork.
-- Photo, text and graphic by Steve Baker
Region: Wasatch Canyons
Destination: Canyon views
Distance: 5 miles
Time: 4 hours
Elevation Gain: 610 feet
Dog Allowed: Yes
Restrooms: Yes, open at gated road
Biking: N/A
Difficulty: 1
First published 2006-01-12