Donkey Ridge Trail - Wasatch Mountain State Park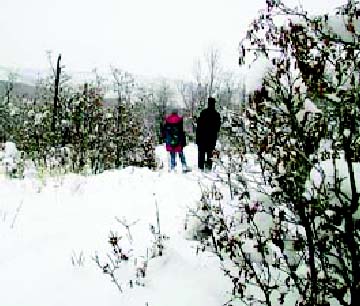 From River Road, turn right onto Dutch Hollow Road and drive 0.4 miles and park just past the the sign for Wasatch Mountain State Park. The trail starts at the parking area and isn't posted. Start hiking north from the parking lot, next to private property through the shrub oaks. About 300 feet into the hike you will see a trail sign for the Interlaken Trail, Dutchman Way Trail and Donkey Ridge Trail. Stay on the Dutchman Way Trail for about 1/2 mile where the Donkey Ridge Trail starts. At the turn-off, the trail heads west up a gentle slope through a snowcovered field of sagebrush. With the hint of sage in the air, the trail heads back into the shrub oaks and up to the ridge overlook road. At the overlook, hike up the hill to view Midway, The Homestead and beautiful Heber Valley. Explore the many trails along The Wasatch Mountain State Park trail complex.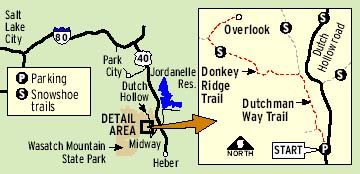 Getting there: From I-80, take the Highway 40 exit to Heber City. At the first stop light turn right (west) onto River Road/Midway. On River Road, the turn off to Dutch Hollow is 2.2 miles from the light. Drive 0.4 miles on the Dutch Hollow Road and park near the large sign for Wasatch Mountain State Park. The road beyond the sign into Dutch Hollow is not maintained in the winter.
-- Photo, text and graphic by Steve Baker
Region: Northeast Utah/ Uintas
Destination: Donkey Ridge overlook
Distance: 3 miles
Time: 2 hours 30 minutes
Elevation Gain: 515 feet
Dog Allowed: Yes, on leash
Restrooms: No
Biking: N/A
GPS Location: 40.5441207, -111.4651886
Difficulty: 1
First published 2005-12-29