Mormon Pioneer Trail - East Canyon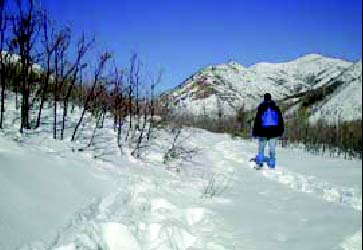 The trail starts at the parking lot above Little Dell Reservoir. Against a cloudless sky we ventured down towards the creek that fills the deep blue reservoir. As you hike through the trees, between the creek and the road, you wonder if the pioneers cleared this section on their journey into the Salt Lake Valley. About a mile and a half into the hike, a footbridge appears over the creek. Stop at the bridge and view the sparkling water trapped under the ice. After the bridge, the trail heads to the restrooms by the road. The trail seems to end at the restrooms, but hike downhill for about 50 feet and you will see the trail posted on the other side of the road. At this point the trail rises above the creek and you are about 1/2 mile away from Affleck Park. There were moose tracks along the entire trail, so keep a watchful eye. This historical pioneer trail was a crossroads for the California Trail, Pony Express Trail and The Mormon Pioneer Trail. Enjoy your adventure!

Getting there: From I-80 take the exit for East Canyon, Highway 65. Drive past Little Dell Reservoir and park in the lot before the gated road.
-- Photo, text and graphic by Steve Baker
Region: Wasatch Canyons
Destination: Affleck Park
Distance: 4.5 miles
Time: 3 hours 30 minutes
Elevation Gain: 494 feet
Dog Allowed: No
Restrooms: Yes, open along trail
Biking: N/A
Difficulty: 1
First published 2005-12-22