South Willow Lake Trail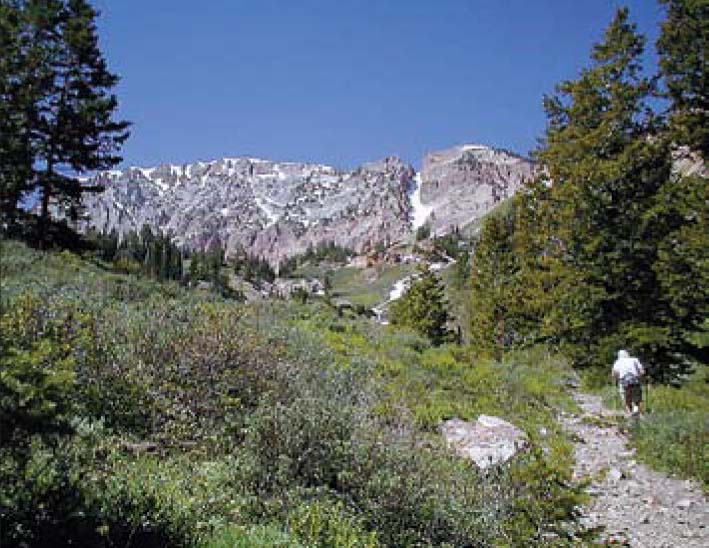 From the campground, the trail takes off into the pines, where you come to the first creek crossing. After you cross, look downhill for the trail post for "South Willow Lake" trail post. Most of the shade disappears as the trail opens below Deseret Peak. After about 1 1/2 miles, you will cross two more creeks and head north to the first ridgeline. From this ridgeline, you are two miles into the hike and have awesome views of the Oquirrh Mountains, as well as Mount Timpanogos in the distance. After taking in the view, continue on and you will come to a trail junction for "Pockets Fork". Continue towards the lake. The trail continues climbing to the next ridge overlook above Mining Fork. You descend into Mining Fork where you come to the last trail post. Stay on the lake trail. The last mile is the steepest, as you hike towards a solid rock wall. The hidden lake is a peaceful place with beauty beyond words.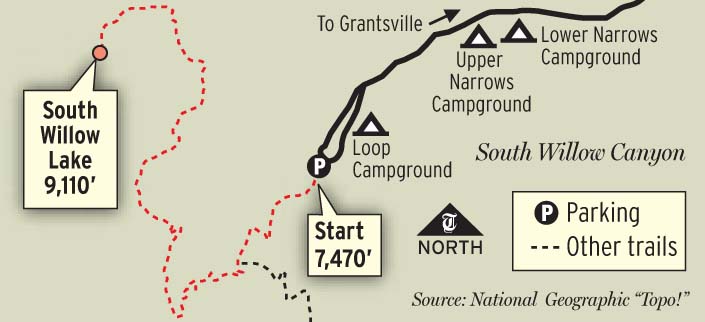 Getting there: On Main Street in Grantsville, turn south on 400 West. Drive six miles to the South Willow Canyon Road exit . It's about eight mile to the Loop Campground where the trailhead starts.
-- - Photo, text and graphic by Steve Baker (baker@sltrib.com)
Region: West Desert
Destination: South Willow Lake
Distance: 7 miles
Time: 4 to 5 hours
Elevation Gain: 1,630 feet
Dog Allowed: Yes
Restrooms: In campground
Biking: No
GPS Location: 40.4902195, -112.62635
Difficulty: 3
First published 2006-07-13