Lake Blanche Trail - Big Cottonwood Canyon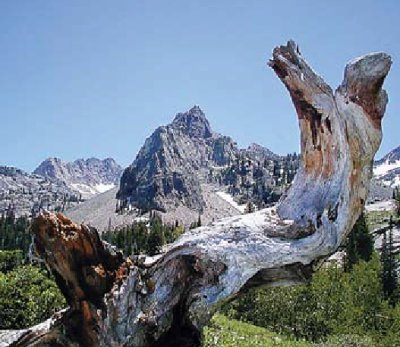 As you hike the road next to the creek, watch for the trailhead on the right side. In less than 1/2 a mile, you will cross a bridge. The trail becomes steeper. Shrub oaks and mountain mahogany trees line the trial near the creek. After a mile, aspens and pines start appearing with a sprinkling of wildflowers. The trail climbs high above the creek as you enter the meadow, about 2 miles into the hike. South from the meadow are some beautiful views. A raging waterfall shoots off the mountain, with Dromedary Peak adding a majestic sight. The jagged rocks of Sundial Peak let you know how close your are to your destination. Leaving the meadow, the trail goes back into the aspens and starts zigzagging to the ridgeline. Before the ridgeline, you'll find a boulder field. Hike up the bolders and you will see the trail on the right. On the ridgeline, you'll enter what I call "graffiti alley." Both sides of the alley have the names of past hikers to Lake Blanche. Enjoy reading, but please don't add your mark. Make sure to visit Florence and Lillian lakes before leaving. Enjoy!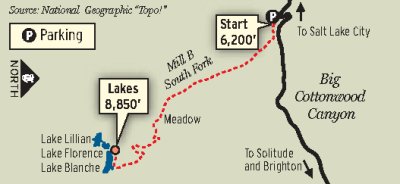 Getting there: Drive 4.5 miles up Big Cottonwood Canyon and park in the Mill B South Trailhead parking lot. The Lake Blanche Trail starts on the paved road near the restrooms.
-- - Photo, text and graphic by Steve Baker (baker@sltrib.com)
Region: Wasatch Canyons
Destination: Lakes
Distance: 6.5 miles
Time: 5 hours
Elevation Gain: 2,650 feet
Dog Allowed: No
Restrooms: Yes
Biking: No
GPS Location: 40.6055049, -111.6954831
Difficulty: 3
First published 2006-07-20