Maybird Trail - Little Cottonwood Canyon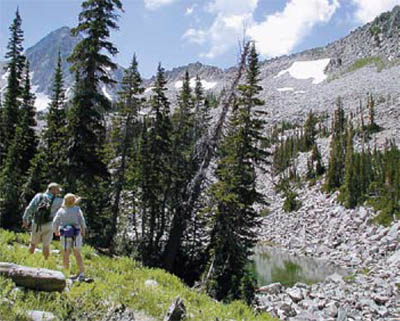 The trail starts at the White Pine Trailhead. After the bridge over Little Cottonwood Creek, the trail turns west, gradually climbing along the canyon. Enjoy the spectacular view of Little Cottonwood Canyon and the Salt Lake Valley. This hike includes two forks: White Pine Fork, then Red Pine Fork. The trail enters White Pine Fork first, where you will encounter the first trail split about a mile into the hike. Take a right for Red Pine Lake Trail. This section takes you out of White Pine Fork and travels around the mountain into Red Pine Fork. Continue your climb south through a forest of tall pines. Two and a half miles into the hike, you will cross the Maybird bridge. The trial goes west around the mountain into Maybird Gulch. As you hike on the side of the gulch, check out the waterfall coming from the Maybird lakes. The end of the trail drops down to the lakes. The lakes sit in a beautiful boulder field with Mount Pheifferhorn directly south. Hop the boulders to view each lake and listen to the flowing water beneath your feet. Enjoy!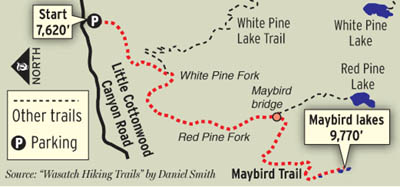 Getting there: Drive 4.6 miles up Little Cottonwood Canyon and take a right at the White Pine trailhead and parking lot.
-- - Photo, text and graphic by Steve Baker (baker@sltrib.com)
Region: Wasatch Canyons
Destination: Maybird lakes
Distance: 7 miles
Time: 5 to 6 hours
Elevation Gain: 2,150 feet
Dog Allowed: No
Restrooms: Yes
Biking: No
GPS Location: 40.5685607, -111.7104836
Difficulty: 3
First published 2006-08-03