Clyde Lake (Crystal Lake Trails) - Summit County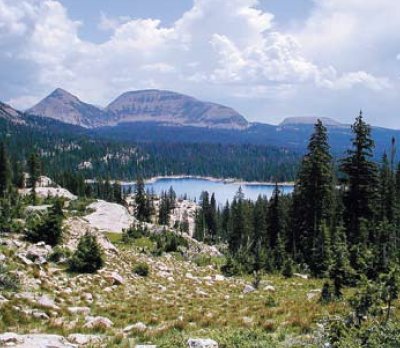 At the end of the parking loop is the trailhead for Clyde Lake. There is an immediate split of Lily and Wall lakes. Stay to the left for Clyde Lake. Less than 1/4 mile in, you will see a sign for Cliff Lake. Take this trail. Before reaching the destination, you will pass several lakes, starting with Lily Lake, named for the yellow flowers on its waters. Gaining 200-feet in elevation, the trail continues up a ridge to Cliff Lake. Watch for rock climbers on the cliffs above the lake. The trail continues to the far end of the Cliff Lake and follows a creek to the next small ridge. Petit and Linear lakes are nestled together in a beautiful meadow there. Climb another 200 feet and Watson Lake appears. Mt. Watson towers to the left. Past the lake, the trail becomes less distinct as you cross a boulder field. Look for cairns among the boulders. To the right, Wall Lake appears, along with the mighty peaks of the Uinta Mountains jutting across the horizon. With wildflowers all around, you descend towards Clyde Lake. Brook Trout greet you along the shore as the trails peters out. Three Divide Lakes begin a few hundreds yards past Clyde.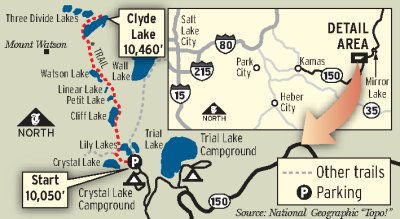 Getting there: On the The Mirror Lake Highway, SR 150, take the Trial and Crystal Lakes turn-off. Follow the signs to the Crystal Lake Trailhead.
-- - Photo, text and graphic by Steve Baker (baker@sltrib.com)
Region: Northeast Utah/ Uintas
Destination: Clyde Lake
Distance: 4 miles
Time: 3 to 4 hours
Elevation Gain: 410 feet
Dog Allowed: Yes
Restrooms: Yes
Biking: No
GPS Location: 40.7018914, -110.9696168
Difficulty: 1
First published 2006-08-17