Cecret Lake Trail - Little Cottonwood Canyon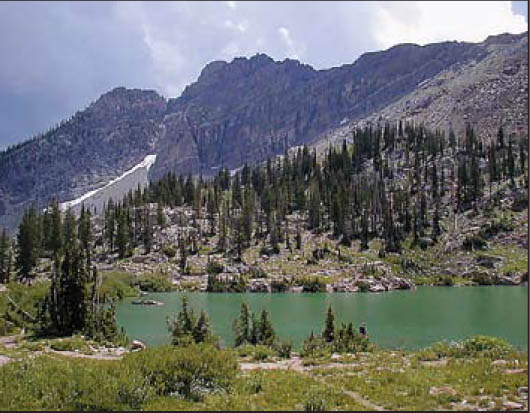 This is a picturesque short hike for the whole family. From the campground, hike through pines surrounded by a carpet of wildflowers. Watch for moose and deer near the small creeks. After the last creek crossing, the trail becomes steeper as it zigzags to the ridge. The lake appears suddenly as you crest, with Sugarloaf Mountain rising to the south. Relax on the rocks overlooking the lake and taken in the view of Alta. If you have not had your fill, other great vistas are a short distance away. Take the service behind Cecret Lake and, at the split, follow the road under the chairlift. At the end of the road you can see Mt. Timpanogos from the Heber Valley side and the Snowbird Tram.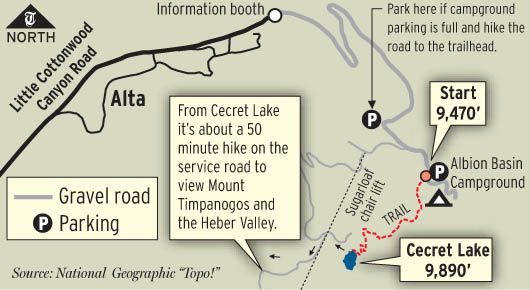 Getting there: Drive to the top of Little Cottonwood Canyon Road. Stop at the information booth for some helpful tips about the area. Drive about three miles on the gravel road to the Albion Basin Campground. The trail begins here.
-- Photo, text and graphic by Steve Baker
Region: Wasatch Canyons
Destination: Cecret Lake
Distance: 2
Time: 1 hour 30 minutes
Elevation Gain: 420 feet
Dog Allowed: No
Restrooms: In campground
Biking: No
GPS Location: 40.5713401, -111.6215889
Difficulty: 1
First published 2006-08-24