White Pine Lake Trail - Little Cottonwood Canyon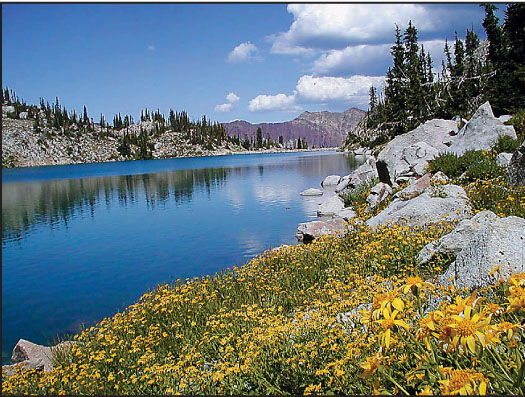 The trail starts at the White Pine Trailhead. After the bridge over Little Cottonwood Creek, the trail turns west, gradually climbing along the canyon. Enjoy the spectacular views of Little Cottonwood Canyon and the Salt Lake Valley. The trail enters White Pine Fork where you encounter a trail split about a mile into the hike. Go left. The trail follows an old mining road with gradually switchbacks through pines. There is a nice flat section that last for about 1/2 mile, and gives you a chance to catch your breath before climbing again. Around 3 miles, you cross a small wildflower meadow with great views of the canyon. After the meadow, the trail becomes steeper as you leave the pines and approach a huge boulder field. The trail, without shade at this point, snakes up the boulders for the ridgeline. It's all downhill from the ridge to the lake, which is aqua blue and crystal clear. Sit on a boulder and watch the trout swim by.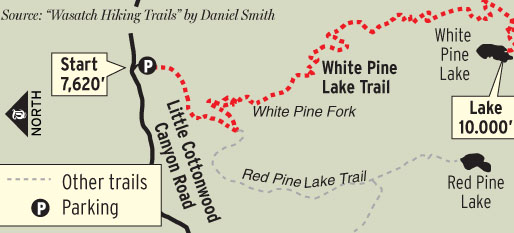 Getting there: Drive 4.6 miles up Little Cottonwood Canyon and take a right for the White Pine trailhead and parking lot.
-- Photo, text and graphic by Steve Baker
Region: Wasatch Canyons
Destination: White Pine Lake
Distance: 10 miles
Time: 6 to 7 hours
Elevation Gain: 2,380 feet
Dog Allowed: No
Restrooms: Yes
Biking: No
GPS Location: 40.5427284, -111.67937
Difficulty: 2
First published 2006-09-07