Naomi Peak Trail - Cache County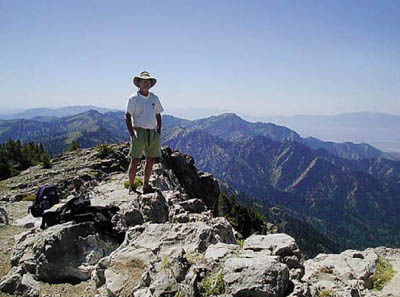 The trail starts at Tony Grove Lake. As you hike north in a meadow, you encounter a trail split. Go left for Naomi Peak. With few trees, there's a clear view of Mt. Magog. Leave the meadow after about 3/4 of a mile and the trail zigzags into the pines to a sub-ridge. The trail traverses to the north, then turns southwest as you make your way through a slot along a limestone cliff face. At the next ridge, you enter another meadow - at 2.2 miles into the hike - and the trail heads slightly down. The two notches on Mt. Naomi are seen clearly from the meadow. The left knob is the higher point. Leave the meadow basin and do a couple of switchbacks heading north. At about 3 miles, the trail reaches the saddle divide of the Bear River Range and turns south for the peak. Naomi Peak is the highest place (9,980 feet) on the Bear River Range and the Mt. Naomi Wilderness Area. Enjoy the spectacular 360-degree view.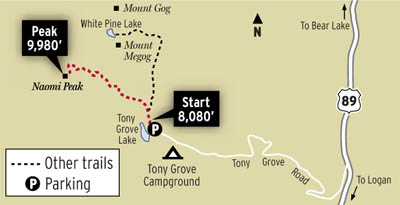 Getting there: From Logan, drive 19 miles up Logan Canyon (Highway 89) and take a left for Tony Grove Lake. Drive 7 more miles to the lake and park. There is a $3 day-use fee and the trailhead is posted.
-- Photo, text and graphic by Steve Baker
Region: Northern Utah
Destination: Naomi Peak
Distance: 6.5 miles
Time: 5 hours
Elevation Gain: 1,900 feet
Dog Allowed: Yes
Restrooms: Yes
Biking: No
GPS Location: 41.9113187, -111.6752182
Difficulty: 2
First published 2006-09-14