White Rim Overlook - Canyonlands National Park, Island in the Sky District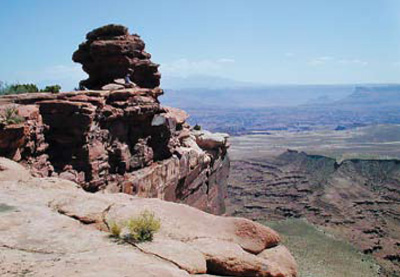 Most visitors drive by the picnic area on their way to Grand View Point and miss this wonderful overlook. From the picnic area's parking lot, walk toward the rim where the trails are posted. Go right. This easy hike will take you to mesa's edge, where you can see the Colorado River, the La Sal Mountains, the White Rim and the Needles & Maze districts of Canyonlands. The edge lacks guard rails and has dangerous drop-offs. Families with small children should find safer overlooks. Everyone else can sit on a rock and marvel at nature's beauty.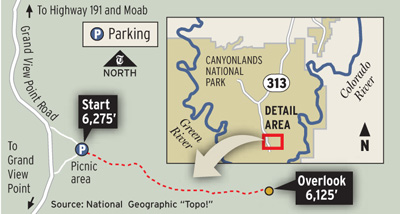 Getting there: North of Moab on Highway 191, exit on Highway 313 for Dead Horse Point and Canyonlands National Park. The highway connects to the Island in the Sky Road. Follow the signs to Grand View Point Overlook. Just before you get to the point, you will see a sign for a picnic area on the left side of the road. It's the only picnic area on the road. Take a left and park at the trailhead.
-- Photo, text and graphic by Steve Baker
Region: Southeast Utah
Destination: Overlook
Distance: 1.75 miles
Time: 1 hour
Elevation Gain: -150 feet
Dog Allowed: No
Restrooms: Yes
Biking: N/A
GPS Location: 38.2755414, -109.8601228
Difficulty: 1
First published 2006-09-21