Dry Creek Trail - Utah County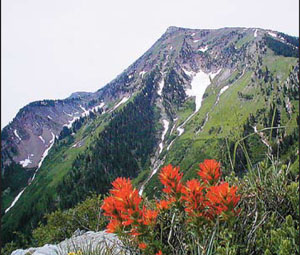 From Granite Flat Campground, the trail follows a spring then veers over and above Deer Creek. The trail splits at the beginning. Stay right and enter Lone Peak Wilderness in a forest of pines. Watch for wildlife near the trail. About a mile into the hike you cross a small spring. Just after the spring, walk over to the edge and look into Deer Creek Canyon to see the beaver ponds. The trail gets steeper after viewing the ponds and a forest of aspens appear. You leave the aspens quickly when the trail opens on a hillside of small shrub oaks. The views on the hill are stunning. Mount Timpanogos and Tibble Fork Reservoir loom south while Box Elder Peak stands before you. About two miles in, the trail crosses in front of a waterfall before heading back into the aspens for a short distance. As the trail approaches the ridgeline you cross a large boulder field. At the top you feel like you could touch Box Elder Peak, while Lone Peak, South Thunder Mountain, North Thunder Mountains and parts of the Salt Lake and Utah valleys are visible.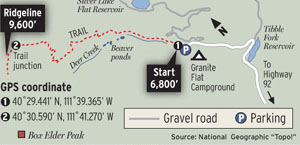 Getting there: From Highway 92 in Utah County, drive up American Fork Canyon. The road splits above Timpanogos Caves. Turn left for Tibble Fork Reservoir. Drive past the reservoir and turn left for Granite Flat Campground where the trail starts.
-- Photo, text and graphic by Steve Baker
Region: Central Utah
Destination: Ridge overlook
Distance: 7 miles
Time: 6 to 7 hours
Elevation Gain: 2,800 feet
Dog Allowed: Yes
Restrooms: In campground
Biking: No
GPS Location: 40.4766166, -111.7574305
Difficulty: 4
First published 2006-09-28