Catherine Pass to Sunset Peak Trail - Little Cottonwood Canyon
From the parking area, hike across the road to the trailhead. Heading east, you will pass under a chairlift where the trail starts, following the hillside toward a ravine. As you approach the ravine, the trail levels out and crosses a creek. Beyond the creek, enter the ravine through the pines and head for the ridge. About a mile into the hike the trail spills into a beautiful wildflower meadow on the ridgeline. From the meadow, the trail zigzags up to Catherine Pass. Take a break to enjoy the view of the lakes before continuing onward. Go right for Sunset Peak. The trail becomes steeper as you climb to the saddle. Just before the saddle, you will see a trail following the hillside going west. This is the loop trail you can take for your return trek after visiting the peak. From the saddle you can see Mt. Timpangos and the Heber Valley. Go left at the junction. The trail to the peak has dangerous drop-offs and is not recommended for small children. The trail goes around the backside of the peak, with fantastic views of Heber Valley and the Uinta Mountains in the distance. Relax on top and take in the view.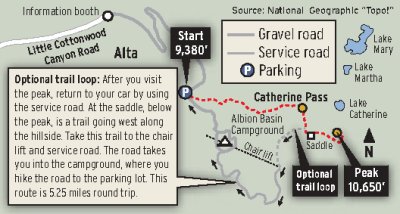 Getting there: Drive to the top of Little Cottonwood Canyon Road. Stop at the information booth for some helpful tips about the area. Drive about 2.2 miles on the gravel road to the parking lot. Trail is posted.
-- - Photo, text and graphic by Steve Baker (baker@sltrib.com)
Region: Wasatch Canyons
Destination: Sunset Peak
Distance: 4.4 miles
Time: 3 to 4 hours
Elevation Gain: 1,270 feet
Dog Allowed: No
Restrooms: Yes
Biking: No, not to peak
GPS Location: 40.576896, -111.5935317
Difficulty: 3
First published 2006-10-05