Mill D North Fork Trail - Big Cottonwood Canyon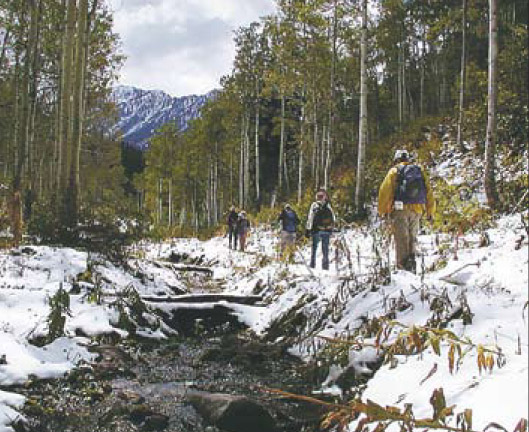 From the parking area, the trail goes up and turns right into a pine forest. Start hiking the side of the ridge heading southeast, with views of Kessler Peak and Mill D South Fork. After a half-mile, the trail turns northeast into Mill D North Fork and stays high above the canyon floor. As you hike the canyon, you will begin to see fewer pines and more aspens. Soon you reach the creek and the trail veers north. Staying on the west side of the creek, you come to a trail junction. Go right for Desolation Lake. The trail becomes steeper after the junction as you head east. About two miles in, the trail smooths out, rounds a bend and enters a meadow. After you cross a small footbridge, the trail leaves the meadow and climbs into the pines. As you head for the ridge, there are great views of the entire Mill D North Fork Canyon and the Oquirrh Mountains. At the ridge, about 3.4 miles in, the trail drops to Desolation Lake. The lake is like a wildlife mirror, reflecting all the surrounding beauty.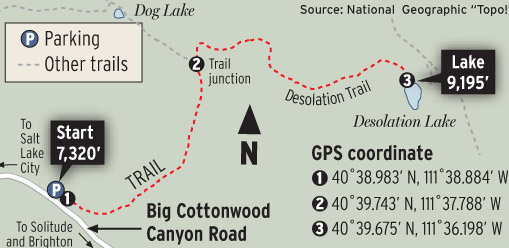 Getting there: Drive 9.4 miles up Big Cottonwood Canyon and park along the left side of the highway. The trail is posted.
-- Steve Baker/The Salt Lake Tribune
Region: Wasatch Canyons
Destination: Desolation Lake
Distance: 7.5 miles
Time: 5 to 6 hours
Elevation Gain: 1,875 feet
Dog Allowed: No
Restrooms: No
Biking: Yes
GPS Location: 40.6452271, -111.6429808
Difficulty: 3
First published 2006-10-26