Mueller Park Trail - Davis County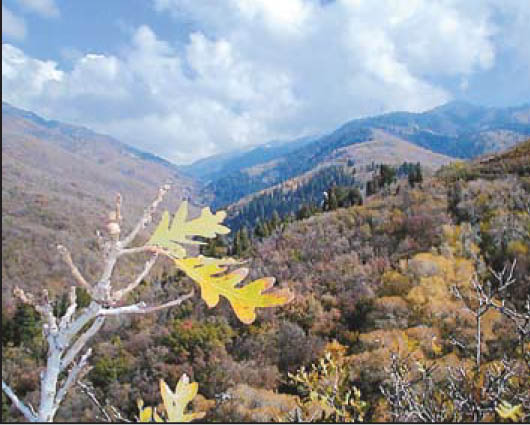 From the parking area, take the bridge across Mill Creek. The trail starts with a series of switchbacks leading into the canyon through the pines. Mountain bikers enjoy the trail too, so keep a watchful eye for them. After a mile you leave the pines and enter a forest of scrub oaks as the trail snakes around the canyon. Watch for wildlife hidden along the trail. At two miles you get your first glimpse of Big Rock. Look up the canyon and to the right, you will see Big Rock surrounded by a patch of pine trees on the hillside. At 2.8 miles you hear the sounds of running water and come to a footbridge. A beautiful springs rushes below your feet as you stand on the bridge. After the bridge, the trail has spectacular views of Bountiful, Antelope Island and the Great Salt Lake. You arrive at a trail split at 3.5 miles. Go left. Just around the corner from the split is a bench where you can sit and enjoy Big Rock and the canyon below.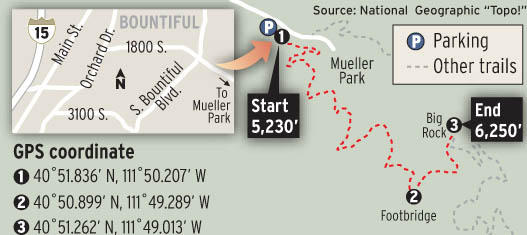 Getting there: On Orchard Drive in Bountiful, go east on 1800 South, which leads into Mueller Park. Trail starts just before the guard shack on the right.
-- Steve Baker/The Salt Lake Tribune
Region: Northern Utah
Destination: Big Rock
Distance: 7 miles
Time: 3 to 4 hours
Elevation Gain: 1,020
Dog Allowed: Yes
Restrooms: In picnic area
Biking: Yes
GPS Location: 40.8627234, -111.8316025
Difficulty: 2
First published 2006-11-02