Alta - Brighton Trail, Grizzly Gulch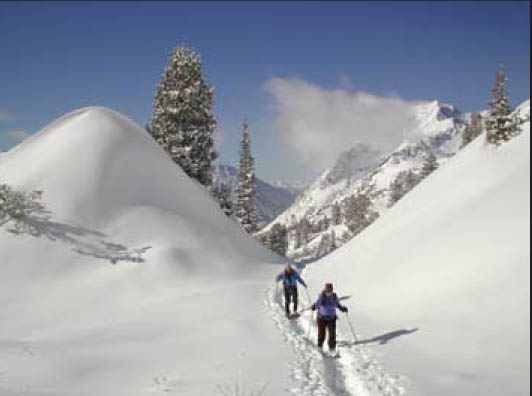 The trail starts at the parking area and zigzags up the hill into the aspens. This small section of the trial is steep, but doesn't last long. Soon you encounter a service road. Go right. From the road, the trail smooths out, with a great view of Alta on the right. You come to a gate across the road at 1/2 mile and the trail starts a gradual climb. On your way up, take a moment to turn around and gazes at spectacular Mount Superior. At 1 mile in, the trail turns south toward the drainage of Grizzly Gulch and becomes steeper. You make your way near the drainage and the trail opens to a huge meadow at 1 1/2 miles into the hike. From the meadow you see Twin Lakes Pass just a short distance ahead. The views from the Pass are spectacular: Brighton to the east, Mount Wolverine to the southeast and the Honeycomb Cliffs to the north.


Getting there: Drive up Little Cottonwood Canyon to Alta and park in the Grizzly Parking area. The trail is posted on the north side of road.
-- - Photo, text and graphic by Steve Baker (baker@sltrib.com)
Region: Wasatch Canyons
Destination: Twin Lakes Pass
Distance: 4.2 miles
Time: 3 to 4 hours
Elevation Gain: 1,213 feet
Dog Allowed: No
Restrooms: No
Biking:
GPS Location: 40.5896729, -111.6293676
Difficulty: 3
First published 2006-11-23