Mill D North Fork Trail to Dog Lake - Big Cottonwood Canyon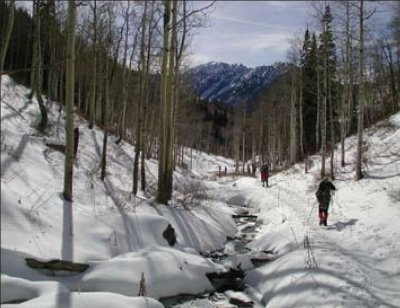 From the parking lot at Spruces Campground, go across the canyon road and start hiking on the Mill D Summer Homes road. Please respect private property and stay on the road. On the road, you come to a map showing the cabin numbers. Go left. Soon you reach a sign for cabins 15-19. Stay right of this sign, to the road leading straight toward Mill D North Fork. Watch for a green gate on the left side of this road. The trail starts at the gate and follows the creek on the east side. At 1.2 mile into the hike, look for a trail post on the other side of the creek and cross over. Soon you leave the creek and the trail turns northwest into the aspens. There is a trail split at 1.75 miles. Go left for Dog Lake. After the split the trail becomes steeper. If you loose the trail, just stay in the aspens and make your way up the dainage. You reach Dog Lake at 2.3 miles into the hike. Go left into the conifers for a beautiful view of Reynolds Peak. On the other side of the trees is a relaxing, open area to have lunch with a view.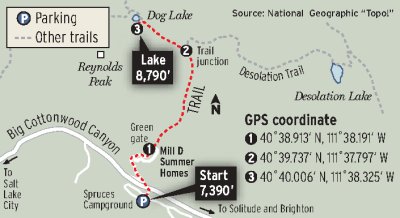 Getting there: Drive 8.6 miles up Big Cottonwood Canyon and turn right at the Spruces Campground.
-- Photo, text and graphic by Steve Baker
Region: Wasatch Canyons
Destination: Dog Lake
Distance: 4.6 miles
Time: 3 to 4 hours
Elevation Gain: 1,400 feet
Dog Allowed: No
Restrooms: In campground
Biking: No
GPS Location: 40.6671711, -111.6396478
Difficulty: 3
First published 2006-11-30