Cassidy Arch Trail - Capitol Reef National Park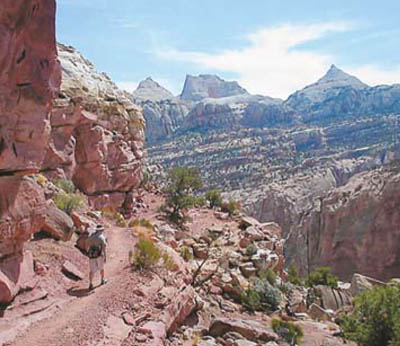 the parking area, the trail starts on the Grand Wash Trail. Hike the wash for a short distance and watch for the post for Cassidy Arch and Frying Pan on the left. As you leave the wash, the well -defined trail clings to the side of the cliff and starts a series of switchbacks up the red rock wall. About 1/2 mile into the hike, the trail levels out and hugs the canyon wall into a large bend. You can see the Grand Wash Road below. The trail climbs as you travel around to the other side toward the ridgeline. At the ridgeline, you get your first glimpse of Cassidy Arch. At 1.40 miles into the hike, there is a trail junction. Go left. The trail drops as you start hiking on slickrock. Pay close attention to the cairns, because the trail seems to vanish on the huge slickrock boulders. The arch is hidden as you make your way from cairn to cairn and then it appears suddenly. Like a window in the desert, the arch opens above a huge drop-off. This trail isnít recommended for small children.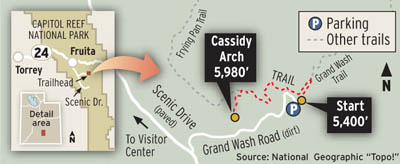 Getting there: On Highway 24 in Capitol Reef, take the Visitor Center exit and get weather conditions. Grand Wash Road is susceptible to flash flooding, so check conditions before entering. Take the Scenic Drive south and stop at the self-serve fee station. Exit onto the Grand Wash Road and drive to the parking area. The trail is posted.
-- - Photo, text and graphic by Steve Baker (baker@sltrib.com)
Region: Southern Utah
Destination: Cassidy Arch
Distance: 3.5 miles
Time: 3 hours
Elevation Gain: 580 feet
Dog Allowed: No
Restrooms: Yes
Biking: No
GPS Location: 38.2619245, -111.2254467
Difficulty: 5
First published 2006-12-07