Scotts Pass - Big Cottonwood Canyon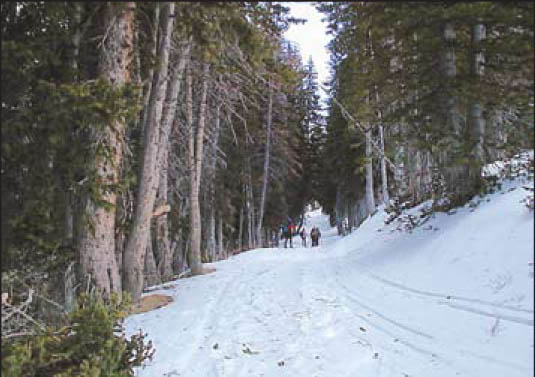 The hike starts on the road. Depending on conditions, it may be easier to hike the road and put on your snowshoes at the trailhead. As you hike the road, be vigilant about passing snowmobilers. The road is very peaceful after the machines whizz by and the views of Brighton are beautiful. You stay on the road for about one mile. After the second sharp bend you leave the road for the trail. You know you have reached the trailhead when you see a restroom. At this junction you pass through a gate and start hiking on the Great Western Trail. The trail is wide, which makes it easy to follow. At 1.9 miles into the hike, you arrive at Scotts Pass. The pass overlooks Thaynes Canyon and offers great views into the Park City ski area. Scotts Bowl is just to the right and a communication tower to the left. If you decide to go farther, take in the views near the communication tower or stay near the trees as you hike above Scotts Bowl. Stay away from the cornice dropoff of Scotts Bowl, which is potentially an avalanche area.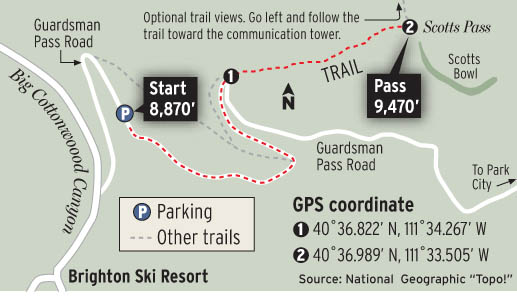 Getting there: Between Solitude and Brighton in Big Cottonwood Canyon. Watch for the turn-off for Guardsman Pass on the left and drive to the end of the road. The trail starts on the road.
-- Steve Baker/The Salt Lake Tribune
Region: Wasatch Canyons
Destination: Scotts Pass
Distance: 4 miles
Time: About 3 hours
Elevation Gain: 600
Dog Allowed: No
Restrooms: Yes
Biking: NA
GPS Location: 40.6166179, -111.5579752
Difficulty: 1
First published 2006-12-14