Fisher Towers Trail - Colorado Riverway Recreation Area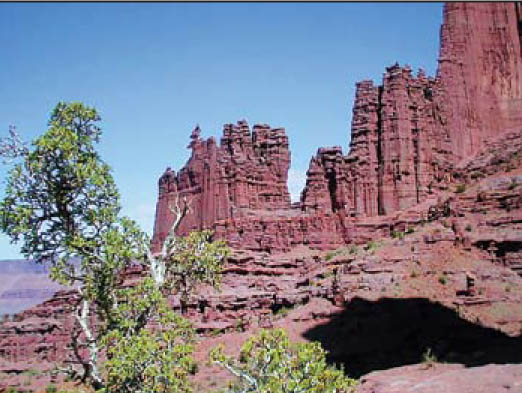 Sign in at the register box before taking the stairs down the trail. Bring plenty of water. The trail faces west and can get hot in the afternoon. The trail travels left over slickrock and makes its way into a gully. Make sure your shoes have good traction because the trail is quite slippery in places. As you hike, keep a close eye on the cairns (piles of rock marking the trail), or you can loose the trail. From the gully, the trail heads back up toward the base of the towers. Rock climbers love the challenges of the towers; bring binoculars and keep a safe distance when viewing them. About a mile into the hike you reach Titan, the largest of the towers. A rope hangs down a crack in Titan and itís hard to believe climbers have scaled it. The trail leaves Titan and heads away from the towers to the ridge overlook. At the overlook, you get a 360-degree panoramic view. I donít recommend this trail for families with small children. There are sharp drop-offs and no guardrails.


Getting there: From Moab, take Highway 128 northbound and drive about 22 miles. The turnoff for Fisher Towers is posted along the highway. The road turns to gravel and is fine for cars. The trail is posted.
-- Steve Baker/The Salt Lake Tribune
Region: Southeast Utah
Destination: Lake views
Distance: 4.5 miles
Time: 3 hours 30 minutes
Elevation Gain: 602 feet
Dog Allowed: Yes
Restrooms: Yes
Biking: No
GPS Location: 38.7216516, -109.3042827
Difficulty: 3
First published 2006-12-28