USA Bowl - Big Cottonwood Canyon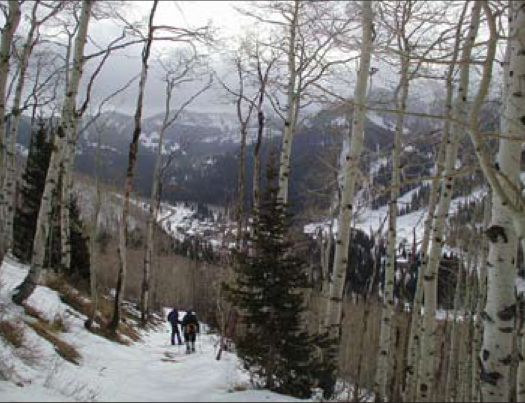 Start from the lower Solitude parking area. Carry your snowshoes and walk across Big Cottonwood Canyon Road. With no trail posts for this entire hike, start snowshoeing northeast from the highway. You should encounter a trail immediately on entering the aspens. The trail heads down and parallel to the highway for about 100 feet, then makes a switchback east where you encounter a small plowed road, about 1/2 mile into the hike. You leave the road quickly at the first bend and take the trail heading north. If you donít encounter the road, donít worry. Just continue northeast, where you will still come to the trail heading north up a hillside. This section is the steepest part of the hike. At the top of the hill, you come to a overlook of Solitude. Take a rest and enjoy the view. After the overlook, the trail leaves the aspens and enters a forest of spruces heading northeast. As you leave, the trail open below the ridgeline. At this opening, go right for the bowl. The USA Bowl is a huge meadow that sits below the ridgeline of the Great Western Trail. If you want to go further, blaze a trail up the ridge and loop back into the bowl.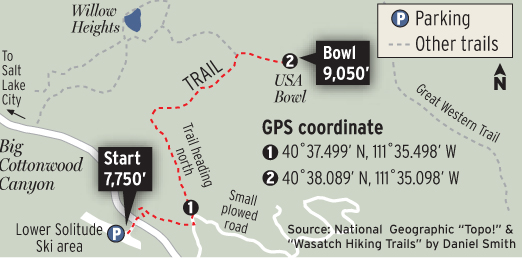 Getting there: Drive up Big Cottonwood Canyon and park at the lower Solitude parking area.
-- Steve Baker (baker@sltrib.com)
Region: Wasatch Canyons
Destination: USA Bowl
Distance: 3.4 miles
Time: About 3 hours
Elevation Gain: 1,300 feet
Dog Allowed: No
Restrooms: Solitude Lodge
Biking: No
Difficulty: 1
First published 2007-01-04