Alexander Spring, Sheep Trail - Salt Lake County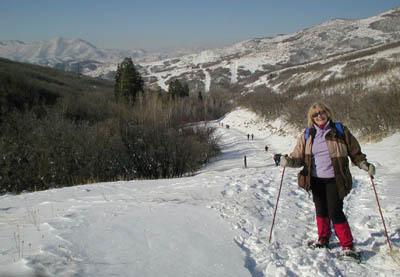 If you are new to snowshoeing, this will be an easy start. The trail starts at a gated road on the east side of Highway 65, but the trailhead isnít posted. The road follows Alexander Creek as you head east. Cottonwood trees line the creek and Mountain Dell Golf Course is on the other side. About 1.3 miles into the hike, the road veers left and leaves the main drainage to a smaller one. You will encounter a series of beaver ponds. One of the ponds has a huge beaver den above its dam. At 1.5 miles you arrive at the largest pond. After this pond the road turns into a trail. About 2 miles in, the trail crosses the creek and the trail becomes slightly steeper. Another surprise awaits you just up the trail Ė watercress thrives in a small spring. Leaves exposed to the air have beautiful ice crystals clinging to them, like white diamonds. After the spring, the trail once again crosses the creek to a trail split. Go right. You soon come to the last split at 2.5 miles into the hike. Go right. From this split, itís about one more mile to Alexander Spring.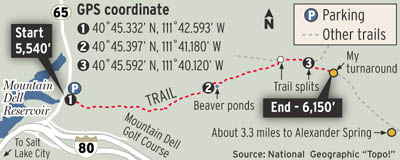 Getting there: Off Interstate 80 in Parleys Canyon, take Highway 65 exit for East Canyon. Drive past the Mountain Dell Golf Course turnoff and look for a gated road on the east side of the road near the ravine.
-- Photo, text and graphic by Steve Baker
Region: Wasatch Canyons
Destination: Alexander Spring
Distance: 5.3 miles
Time: 3 to 4 hours
Elevation Gain: 610 feet
Dog Allowed: No
Restrooms: No
Biking: N/A
GPS Location: 40.7510583, -111.6543724
Difficulty: 1
First published 2007-01-18