Greens Basin Trail - Big Cottonwood Canyon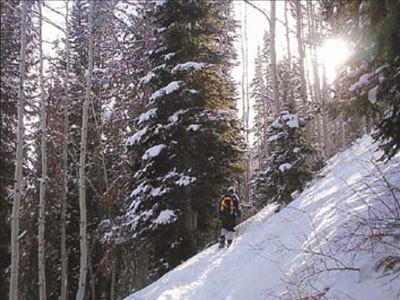 Take the Spruces Campground exit and park in the lot near the trailhead. The campground has two trailheads. Take the trail on the west side to Days Fork. As you hike the trail you will see a cabin as well as a chain-link fence. Stay to the right of the fence, where the trail leads into Days Fork. The trail has a steep ledge at the beginning and you get a good workout for about 20 minutes. About half a mile into the hike, you leave the Days Fork Trail for Greens Basin. The trail isnít posted. Turn left, heading northeast. If you are the first hiker of the day, it could be difficult finding this trail in fresh snow. After two switchbacks you ascend around a minor ridge and the trail smooths out. The trail goes around the ridge and thereís a great view looking across Big Cottonwood Canyon into Beartrap Fork. This view appears about 1.1 miles into the hike. After checking out the views you enter Greens Basin. The basin is a hidden meadow between Days Fork and Silver Fork.


Getting there: Drive 8.6 miles up Big Cottonwood Canyon and take a right at the Spruces Campground.
-- Photo, text and graphic by Steve Baker
Region: Wasatch Canyons
Destination: Greens Basin
Distance: 2.9 miles
Time: About 3 hours
Elevation Gain: 1,000 feet
Dog Allowed: No
Restrooms: Yes
Biking: N/A
GPS Location: 40.6313387, -111.6271463
Difficulty: 3
First published 2007-02-01