Doughnut Falls - Big Cottonwood Canyon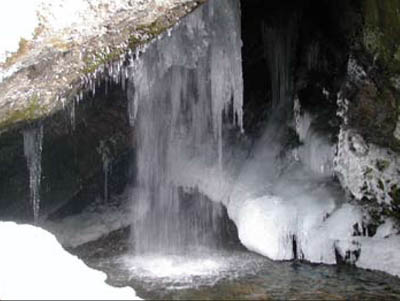 Salt Lake City wanted to protect its watershed and, in doing so, did something wonderful for outdoor enthusiasts. The city purchased 144 acres in lower Cardiff Fork, which gave us Doughnut Falls, a hidden treasure. From the parking area, start hiking on the Cardiff Fork Road. You will pass a 1/4-mile section of private property. Stay on the road. Next, you will come to a restroom at 0.8 miles in. Head toward the restroom and follow the trail to the left. Roughly one mile in, you will see a homemade post telling you to go right. Ignore it, and continue left. Pass a small bridge for the Cardiff Fork Road at 1.2 miles into the hike. Donít cross it Ė stay to the left. The trail heads toward a small creek. The water from this creek is coming from Doughnut Falls. The water will lead you into a narrow crevasse. Just around the bend you will see a boulder field. The Doughnut Falls are hidden in the boulders. Use caution scrambling over the slippery boulders. Aqua-blue translucent icicles circle the doughnut of the falls.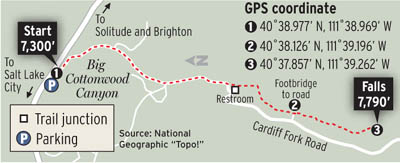 Getting there: Drive 9.4 miles up Big Cottonwood Canyon and park along the right side of the highway near the restroom, at Cardiff Fork.
-- - Photo, text and graphic by Steve Baker (baker@sltrib.com)
Region: Wasatch Canyons
Destination: Falls
Distance: 3.14 miles
Time: 2 hours 30 minutes
Elevation Gain: 490 feet
Dog Allowed: No
Restrooms: Yes
Biking: N/A
GPS Location: 40.6296717, -111.6549256
Difficulty: 1
First published 2007-02-15