Catherine Pass winter trail - Little Cottonwood Canyon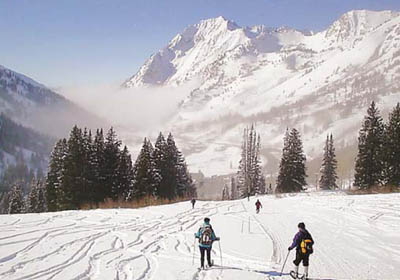 From the parking area, start showshoeing at the gated summer road. After a short distance, take the cat-track shortcut up the hill. The cat track is steep and climbing it is a workout. Catch your breath as you cross the summer road, and continue up the hill to the second crossing. Go right and follow the road. Alta Nordic Center grooms the road for Nordic skiers. All others are asked to stay on the uphill side of the road. A mile in, the road splits, and you'll leave the summer road. Look for a sign that reads "Uphill Traffic," and take that road left. You'll see a chairlift. Continue up the hill. At a second lift, head southeast. If there is fresh powder and you are the first snowshoer of the day, this area could be confusing. Just continue southeast on a slight uphill grade. Watch for a rock formation know as "Big Rock" and head toward it. You'll pass through a split in Big Rock and continue around the mountain with little gain. When you reach a ravine, go left and follow it up. Watch for downhill skiers. At the top, there is a large meadow. Stay on the right side of the meadow and make your way up to the saddle. Enjoy the view.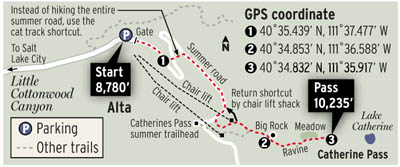 Getting there: Drive to the top of Little Cottonwood Canyon and park at the upper Albion Basin parking lot.
-- Photo, text and graphic by Steve Baker
Region: Wasatch Canyons
Destination: Catherine Pass
Distance: 4.35 miles
Time: About 4 hours
Elevation Gain: 1,455 feet
Dog Allowed: No
Restrooms: No
Biking: N/A
GPS Location: 40.5807848, -111.593254
Difficulty: 5
First published 2007-03-01