Silver Fork - Big Cottonwood Canyon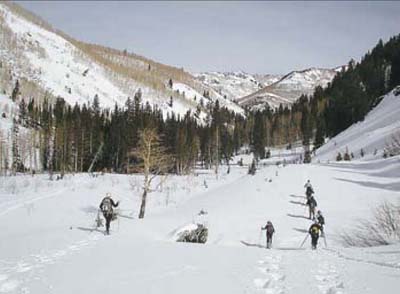 On the far right side of the lower Solitude parking area, start snowshoeing on the road around the chairlift. As you head into Silver Fork, the road passes by cabins nestled in a thick canopy of conifers. Less than a mile in, you will come to the trailhead, where the trail splits. Go right. The trail stays high on the west side of the ravine as you enter an aspen grove. A hillside meadow follows the grove, about two miles in. Across the meadow you can see a section of the trail you will be returning on. Near the top, the trail curves left toward a solar panel pole where you will loop back down. Take a break and enjoy the meadow before heading back. Stay on the east side of the ravine where the trail takes you back to the trailhead.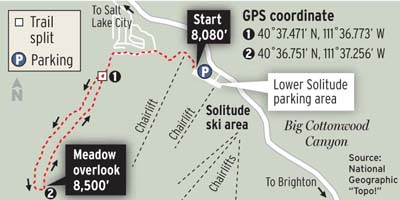 Getting there: Directions: Drive up Big Cottonwood Canyon and park at the lower Solitude parking area on the far right end.
-- - Photo, text and graphic by Steve Baker (baker@sltrib.com)
Region: Wasatch Canyons
Destination: Meadow overlook
Distance: 3.85 miles
Time: About 3 hours
Elevation Gain: 420 feet
Dog Allowed: No
Restrooms: Yes
Biking: N/A
GPS Location: 40.633561, -111.6152012
Difficulty: 1
First published 2007-03-22