Grove Creek Trail - Utah County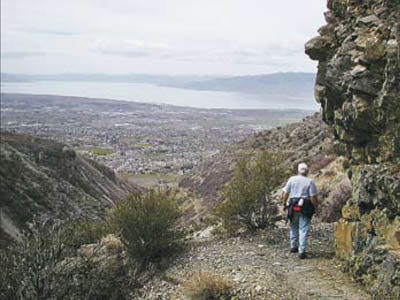 From the parking area, the trail heads into the canyon and follows the creek on the north side. Scrub oaks, sagebrush and a sprinkling of conifers line the trail. Less than a mile in, the canyon walls are framing Utah Lake like a hidden painting behind you. You come to the first switchback at 0.62 miles and the trail turns to face valley views. Your view of Utah Lake expands and Utah Valley appears. In the distance is Mount Nebo stands tall, to the south. As you enjoy the view, the trail switchbacks into the canyon at 0.95 miles. Mount Timpanogos comes into view. A spring crosses the trail at 1.5 miles and mountain mahogany trees offer shade. Near this area, listen and look below for the first waterfall. At the final falls, sit on the bench and take in the view. Note: There are dangerous drop-offs and loose rocks on sections of this trail.


Getting there: On Highway 146 in Pleasant Grove, go east on 500 North. The road leads into Grove Creek Drive for the parking area.
-- - Photo, text and graphic by Steve Baker (baker@sltrib.com)
Region: Central Utah
Destination: Waterfall
Distance: 4 miles
Time: About 3 hours
Elevation Gain: 1,560 feet
Dog Allowed: Yes
Restrooms: Yes
Biking: N/A
GPS Location: 40.3655076, -111.7246501
Difficulty: 3
First published 2007-04-26